PHOTOS: More Celebs Play 'Dead' On World AIDS Day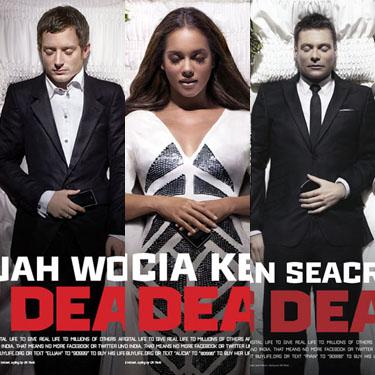 One day after RadarOnline.com showed you a powerful photograph of Kim Kardashian lying in a coffin -- playing 'dead' -- to bring awareness to AIDS, we have several more haunting photos of other celebs doing the same.
To mark World AIDS Day on December 1st, some of the biggest names in Hollywood,music and sports agreed to be photographed pretending to be dead as part of a campaign called "The Digital Life Sacrifice". As part of the fundraiser, the celebs logged off their Twitter, Facebook and MySpace accounts on Tuesday and will not sign back on until $1 million is raised for Alicia Key's Keep A Child Alive cause.
Article continues below advertisement
Besides Kardashian, some of the other celebs who posed in a coffin include Lady Gaga, Justin Timberlake, Usher, Sean Combs, Jennifer Hudson, Ryan Seacrest, Elijah Wood and Serena Williams.
Said Alica Keys: ''Once I got people on the phone and I was able to paint the concept for them, everybody was in. ''We're trying to make the remark, 'why do we care so much about the death of one celebrity as opposed to millions and millions of people dying in the place that we're all from?''