Ashton Kutcher & Demi Moore To Appear At United Nations To Fight Human Trafficking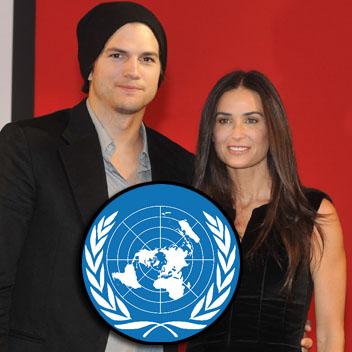 Ashton Kutcher and Demi Moore are using their mega-star power to help fight human trafficking, RadarOnline.com has learned.
The Hollywood power couple will appear at the United Nations Headquarters in New York on Thursday afternoon to help launch the UN Voluntary Trust Fund for Victims of Trafficking in Persons.
The Trust Fund is a massive global effort to fight human trafficking, especially trafficking involving women and children. The fund will provide humanitarian, legal and financial aid to victims of trafficking and will be administered by the UN Office on Drugs and Crime.
Article continues below advertisement
According to a news release issued by the United Nations, "Ms. Moore and Mr. Kutcher have demonstrated a strong commitment to the fight against human trafficking. They created 'DNA', the Demi and Ashton Foundation, which aims to raise awareness about child sex slavery worldwide, change the cultural stereotypes about the issue, and rehabilitate victims. "Freedom is a basic human right and slavery is one of the greatest threats to that freedom," Mr. Kutcher said. "No one has the right to enslave another person," said Ms. Moore."
The U.N. also states: "Human trafficking is a multi-billion dollar a year business, with profits second only to drug and arms trafficking, and most of its victims women and children. UNODC plays a central role in the fight against all forms of human trafficking including, sex trafficking, forced labour, and trafficking in persons for the purpose of organ removal."
While Kutcher and Moore will lead the Fund's kick off, they will be joined by General Assembly President Joseph Deiss, UN Secretary-General Ban Ki-moon, New York Times Pulitzer Prize winning author-journalist Nicholas Kristof and UNODC Executive Director Yury Fedotov. Survivors of modern day slavery will also attend.