Kim Kardashian Poses In A Coffin For AIDS Charity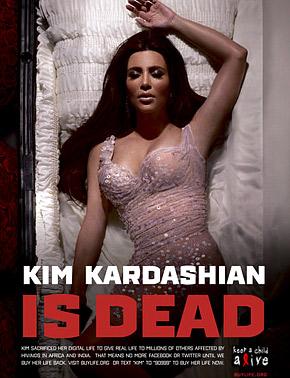 Kim Kardashian is playing dead - for a good cause.
The reality TV vixen is appearing in a shocking new ad in which she lays in a coffin to raise awareness for World AIDS Day, which is Wednesday, December 1.
"Kim Kardashian Is Dead," the ad reads, explaining that she has sacrificed her digital life "to give real life to millions of others affected by HIV/AIDS in Africa and India," the ad reads. "Visit BuyLife.org or text 'KIM' to '90999' to buy her life now."
Article continues below advertisement
Kardashian, 30, is among several stars participating in the Digital Life Sacrifice event. In addition to posing for the provocative ads, she and other celebs will sign off Twitter and Facebook beginning on Wednesday until $1 million is raised for the AIDS charity.
Other celebs participating include Kim's sister Khloe, Lady Gaga, Justin Timberlake, Jennifer Hudson, Ryan Seacrest, Elijah Wood, and Serena Williams, to name just a few.
The event is organized by Alicia Keys, who is the global ambassador for the charity.
The money raised will benefit families affected by HIV/AIDS in Africa and India.
RELATED STORIES: