PHOTOS: George Michael Apologizes For "Screwing Up Again" After Smashing Car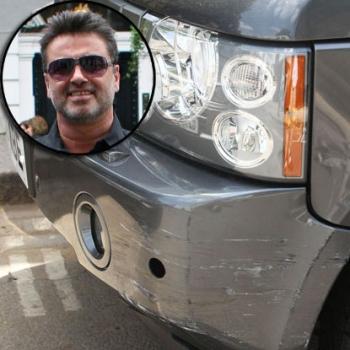 Pop star George Michael released a statement Tuesday apologizing to his fans after he smashed his Range Rover into a British photo developing store over the weekend, RadarOnline.com is reporting.
"I want to apologize to my fans for screwing up again, and to promise them I'll sort myself out. And to say sorry to everybody else, just for boring them," Michael said.
The 47-year-old I Want Your Sex singer, who only recently ended a two year driving ban, crashed his car into the Snappy Snaps shop in Hampstead, England, at around 3:35 a.m. on Sunday after attending the Gay Pride march in London the day before.
Article continues below advertisement
Michael was arrested on suspicion of being unfit to drive after the store was left with a broken door and shattered windows following the crash.
A police spokesman told The Sun newspaper: "A man in his 40s was arrested on suspicion of being unfit to drive."
Michael was released on bail until a hearing in August.
This is, of course, not the first time Michael has had trouble with the law.
He was arrested in September 2008 after being caught in a public toilet in possession of crack cocaine and marijuana.
A year previously he was handed 100 hours community service for drug driving after being found slumped at the wheel of his Mercedes car by police.
Family and friends – including superstar Elton John – have been becoming increasingly concerned about Michael's erratic behavior.
EXCLUSIVE PHOTOS: Christina Aguilera Accident Scene
Last year, Michael admitted in a frank interview with The Guardian newspaper that he had cut down his marijuana use, smoking only "seven or eight" cannabis-laced cigarettes a day from 25.
George, who is in a long-term relationship with American art dealer Kenny Goss, also admitted he was frustrated that people judge him for his drug use and for having casual sex.
He said: "People want to see me as tragic with all the cottaging (cruising) and drug-taking. I don't see them as weaknesses any more. It's just who I am.
"I've done different things at different times that I shouldn't have done, once or twice, you know. Of course, nobody wants to regularly smoke crack."