REPORT: Rosie O'Donnell Splits From Girlfriend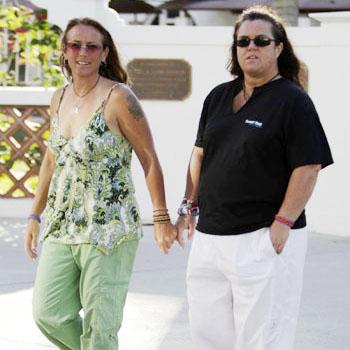 Rosie O'Donnell is a single lady once again, after splitting from her girlfriend of over a year, Tracy Kachtick-Anders, according to reports.
Rosie confirmed that she was dating Tracy, a Texas artist and mother of six, last January, a month after the pair were spotted holding hands in Miami.
At the time the comedienne was fresh off her October break-up with ex-wife Kelli Carpenter, with whom she has four children.
Article continues below advertisement
The New York Post's Page Six was first to announce Rosie's latest split, quoting a source as saying: "They have definitely split up, but it is very complicated because their kids are very close.
"They still spend a lot of time together."
Going on to report that the couple only recently parted ways, with Tracy living at a separate house with her children, while she and Rosie, who lives in Nyack and on Miami's Star Island, remain on good terms.
When she first went public with their relationship O'Donnell gushed about her new girlfriend: "Tracy has six kids, she lives next door . . . It's a lot! We're the Gay-dy Bunch! It's a challenge, but when you fall in love with someone, they come with a whole bunch of things, including children."
O'Donnell went on to explain that she fell for Tracy, who runs the Open Arms Campaign, a nonprofit organization to recruit adoptive families in the LGBT community, because of her love for kids.