EXCLUSIVE INTERVIEW: 'The Fabulous Beekman Boys' Receive GLAAD Nomination & Share Their Thoughts On Fame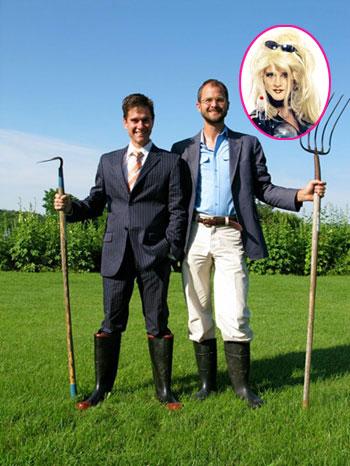 Josh Kilmer-Purcell and Brent Ridge, stars of The Fabulous Beekman Boys speak exclusively with RadarOnline.com about their nomination for "Outstanding Reality Program" by GLAAD.
With the second season premiere of The Fabulous Beekman Boys in March on Discovery's Planet Green, the men share their thoughts about fame and life on the farm:
Q:
This is really exciting news, The Fabulous Beekman Boys have been nominated for "Outstanding Reality Program... if someone told you five years ago this would be happening, would you believed them?
Article continues below advertisement
A:
Five years ago the idea of being gay goat farmers with our own reality show seemed about as likely as a former Vice Presidential candidate having her own reality show.
Q:
Why do you think your show has become so popular, so fast?
A:
As unconventional as we might seem on the surface, we're actually probably two of the most relatable people on TV. We're a long term couple, we both lost our jobs in the recession and live in a rural area, and we took a huge risk to follow our dreams. We're a lot more familiar to Americans than a gaggle of rich blonde woman living in Beverly Hills. (But we love that show too!)
Q:
Your reality show is about a gay couple who have left the big apple to live life on a farm, what is your demographic?
A:
First off, kudos to Planet Green for not trying to "define a target audience" for our show. They just show us as we are. From our emails, it seems that just about everyone likes watching our show. We've heard from high school football coaches in Texas, and celebrities like Jeffrey Tambor and Jill Zarin. We haven't yet heard from any former Vice Presidential reality show stars, however.
Article continues below advertisement
Q:
You both seem so wholesome and are good role models in the gay community, well in any community - do you think that helped in your nomination process for the GLAAD award?
A:
GLAAD is interested in the accurate and diverse representation of LGBT people in the media. I'm not sure how accurate we are, but a former drag queen and Martha Stewart VP turned goat farmers is pretty damn diverse.
Q:
What has been your favorite part of this entire experience?
A:
The community of people that have grown around the show. We have so many visitors to our website, beekman1802.com, who have not only become friends of ours, but also friends with each other. We had over 5000 people visit our little town for our Harvest Festival this fall. And many of them came to finally meet each other face-to-face. Ok, we'll admit it - we're a cult!
Q:
Josh, can we expect you to pen any more best sellers in the near future?
Article continues below advertisement
A:
First, I'm finishing up our Beekman cookbook which will be out this fall. Then I'm thinking about writing another memoir about this whole reality experience – a non-fiction reality autobiographical memoir. Someone was bound to write one, might as well be me!
Q:
What are your hopes for the show?
A:
That it stays on forever. Our farm and business help support a lot of people in our little village. We want them all to keep thriving - and for other small farms and towns to see what can be accomplished by embracing diversity and working together.
Q:
What are you wearing for the awards?
A:
Our Muck Boots, of course! Maybe the ones we had bedazzled by Swarovski crystals. Our llama will be wearing (Alexander) McQueen.
Q:
Can you reveal any secrets in upcoming episodes?
A:
Well, Martha (Stewart) has another appearance and there's a surprise visit from Rosie O'Donnell. But the big question is whether Josh will finally be able quit his job and move to the farm full time. And we haven't finished filming the second season yet because we still don't know the answer. So it's still a secret even from us. If you hear any scoop, please let us know!