Exclusive
Luxury Living: Tour Tiger Woods' Two New Florida Mansions (Part 2)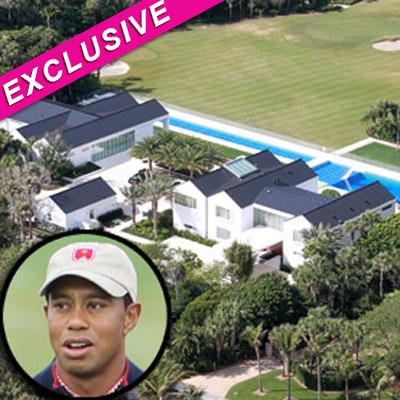 By Jose Lambiet
Radar Executive Editor
Because troubled golfer Tiger Woods' divorce settlement mandates background checks on women who'd stay with him if his two children are also in the house, Woods hangs out with the kids at the 22,000-square-foot mansion he built for his mom Tida in Jupiter, Fla.
When it's party time, he stays a handful of miles east as the crow flies, and RadarOnline.com has exclusive details.
Article continues below advertisement
Woods brand new personal party palace, in which he is set to move June 12, is wedged between the Atlantic and the river-like Intracoastal Waterway in Jupiter Island, one of the richest small towns in America.
LUXURY LIVING: Tour Tiger Woods' Two New Florida Mansions (Part 1)
The house, designed in an austere bunker-like Northern European style by the Swedish ex-wife Elin Nordegren, was supposed to cost $33 million.
According to someone close to Woods, the house alone ended up costing him $40 million for "just" 9,700-square-feet. Woods also spent three years collecting 12 acres of land from four individual homeowners for a total of $44.5 million! And since he spent another $5 million on a personal golf course on the property, Woods may have invested just short of $90 million in his new rock pile.
Inside, most of the rooms are filled with custom-made furniture that are as minimalistic and cold as the outside, a throwback of the Austin Powers-style of the 1970s.
Article continues below advertisement
The furnishings, too, were designed by Nordegren and Woods agreed to the delivery – It took a crew of 10 from Sweden to install the furniture! – despite the fact that stories of his adventures in sex were out.
What stands out here is Woods' man-cave, a bachelor's playground on the lower floor that includes a 30-foot-wide, 10-foot-high video wall on which Woods can spend hours playing his current favorite video game, Call of Duty!
"He'll get online and play with people who have no idea they're playing with Tiger Woods," said the source. "He's a world-class gamer. The latest X-box equipment is in three rooms, including his bedroom."
EXCLUSIVE PHOTO: Tiger Woods' New Girlfriend Mug Shot -- Arrested On Suspicion Of DUI
Nearby is Woods' white lacquered trophy case. Because of an elaborate system of wires and pulleys, the case seems to float over the white marble floor. Two HD TVs inside the case constantly broadcast images of Woods' greatest wins, including the Masters and the British Open.
There's also a media room with seating for 12 and a 3-D projection system.
HOTOS: Tiger Woods' New Oceanfront Estate
Elsewhere in the house:
There's a cigar-wine bar enclosed in glass walls. Because of the casino-style ventilation system, it's nearly impossible for anyone to tell that cigars are being smoked
Woods' master bathroom has a urinal and a classic toilet bowl, like in a restaurant
In his-and-hers master bathroom, which features an above ground bathtub in the shape of a soup bowl, the marble floor is automatically heated when needed, as are the towel racks
Instead of curtains, Woods can darken his bedroom, or make it a little more intimate, by regulating a dark smoke that floats between the panes of the hurricane-proof windows
A 6,000-square-foot gym features a regulation basketball court and an oxygen room in which Tiger can recover from injuries by breathing oxygen-rich air
Must be nice to be Tiger!
RELATED STORIES:
EXCLUSIVE: Tiger Woods' New Girlfriend Was Arrested On Suspicion Of DUI
Meet Tiger Woods' New Girlfriend Alyse Lahti Johnston
Sexy Photos Of All Tiger's Women