LUXURY LIVING: Tour Tiger Woods' Two New Florida Mansions (Part 1)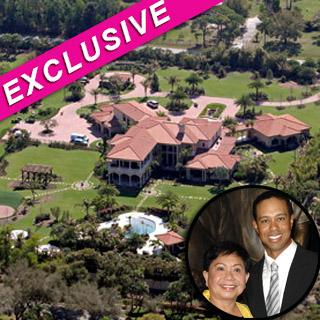 By Jose Lambiet
RadarOnline.com Executive Editor
Sometime in mid-June, scandal-scarred golfer Tiger Woods is scheduled to leave the Orlando, Fla., home where his 2009 fender-bender kicked off a chain reaction that cost him his family, reputation and, some say, his career.
He's moving three hours south into custom-built oceanfront digs outside Palm Beach, Fla.
A few miles in-land is another brand-new crib that the golfer built for his mom, 66-year-old Tida Woods, and his two toddlers.
Article continues below advertisement
And it's as much a shrine to the golfer as a residence.
In addition to the dozens of photos of Woods at various times of his career and trophies displayed throughout the house, every one of the dozens of windows, according to a contractor who worked on Tiger's two houses, bears Woods initials, TW.
The same initials were also blown into the stained glass above the front door, and they are in the marble tiles in the foyer.
Article continues below advertisement
Built in a classic style with elements from Tida's native Thailand, including a tea house in a garden, the home features several rooms covered with fine lacquered teak and mahogany.
What jumps out at visitors, however, is that much of the house has been designed for Woods' two children, 3-year-old Sam and 2-year-old Charlie:
They sleep in bedrooms where the walls were hand- painted by a Disney artist. Charlie wakes up to scenes from the classic cartoon The Jungle Book while Sam's room is decorated with characters from The Little Mermaid. On their beds are hand-made blankets bearing their names.
They have an Astroturf putting course in the yard guarded by a live-sized ceramic replica of a tiger
The yard also features a giant jungle gym and a fountains rhythmically shooting out of the ground as the kids step on them
At the edge of the salt water pool, a water slide ends in a Playboy Mansion-style grotto. The inside of the grotto is covered with large sea shells and music can be piped in from inside the main house.
Any chance to see Playboy-style action in the grotto?
Hardly!
Tida's house is also where the former world's No. 1 golfer himself will hang out when he gets the kids.
And there's a good reason for that, RadarOnline is told by someone familiar with his divorce agreement.
"Both Tiger and (ex-wife) Elin Nordegren agreed in their divorce (last year) that whatever boyfriend or girlfriend spends the night with them in the same location as the kids will be background-checked by the other party's lawyers," the well-placed informant said.
"So, Tiger will be at his mom's house when the children are around, and there'll be no girl there because he doesn't want Elin's people to start snooping on him. He's keeping the other house as his party palace!"