Randy Quaid's Band 'The Fugitives' To Perform Live On Canadian TV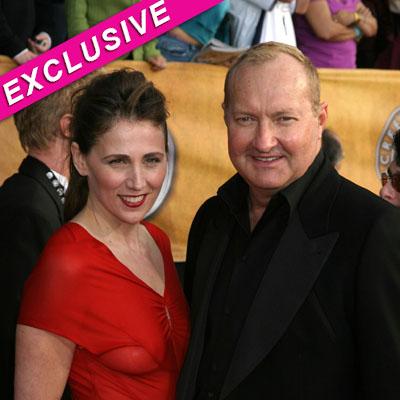 Radar Staff Reporter
They may have turned their backs on Hollywood, but Star Wackers' duo Randy and Evi Quaid are continuing to try and win over Canadian fans with yet another live TV appearance.
RadarOnline.com has learned that the oddball couple will appear live on a zany local cable show called Talent Time for their Wednesday, May 4, TV party where Randy's band The Fugitives will perform.
Article continues below advertisement
Talent Time is a live comedy, variety and chat show, available on a Vancouver cable station; the show has included comic hypnotists, laughing meditation impersonators and tribute bands in the past.
Host Paul Anthony met the Quaids after their recent premiere of their new Star Wackers documentary in Vancouver last week.
A source revealed: "Paul was very keen to get Randy and Evi on his show, and once he told them about the format they agreed.
"They have really fallen in love with Vancouver and Canada, and they want to show people that they are really part of the community.
"Talent Time is a popular local show with a decent audience, so, it will give them another forum.
"They also have a regular segment called CRAIGSLIST CORNER featuring crazy people from around the world. So, if that involves the Quaids, it could get interesting."
At their recent Vancouver screening of their film Star Wackers, local fans were shocked by the freakish documentary.
Article continues below advertisement
While introducing her documentary, Evi Quaid told the audience that it was "a work in progress and highly experimental with a lot of nudity."
There's a scene of Randy with a deer skull attached to his head with a seat belt. Randy, buck naked, down on all fours, eating grass. (Not pot, actual grass). Randy is also seen running through a field, wearing an open fur coat and flapping in the breeze, while reciting Shakespeare.
The couple is currently living in Canada seeking asylum under that country's refugee statutes after failing to appear in Santa Barbara , CA. for several court dates last year.
But prosecutors back in the U.S. are determined to get them in front of a judge to face charges that they illegally squatted in a home they used to own and for defrauding an innkeeper after skipping out on a hotel bill.
As RadarOnline.com has previously reported the Quaids have forfeited some $1 million in bail following their October arrest for felony vandalism and subsequent missed court dates.