Exclusive
PHOTOS: LeAnn Rimes Is Looking Gaunt & Thin As She Prepares For Wedding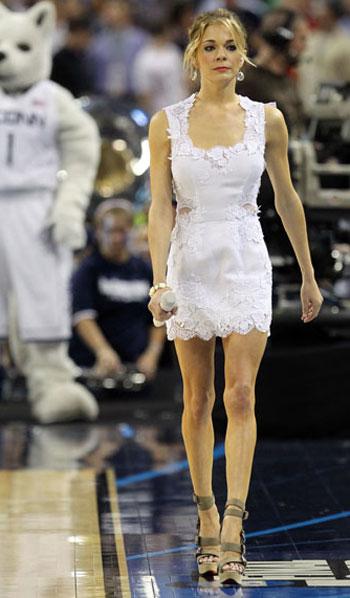 Country superstar LeAnn Rimes insists she is healthy, but she looked a shadow of her former fit self when she appeared at a basketball game in Texas, RadarOnline.com is reporting.
Sporting a designer Dolce & Gabbana designer white lace dress the 28-year-old appeared gaunt and thin as speculation grows that she has lost too much weight as she prepares to marry actor Eddie Cibrian.
Rimes bony appearance appeared even more exaggerated as she belted out the National Anthem at the basketball game at the NCAA National Championship in Houston on Monday night where UConn beat Butler 53-41.
Article continues below advertisement
When controversy first surfaced about her appearance last month the country singer instantly went on the defensive.
She said: "Maybe it's time for a nude pic so peeps can see how I look nowhere near what these stupid pics are trying to make me look like, LOL #joke.
"I don't care about the dumb articles. I know how healthy I am. Maybe those people should start taking care of themselves... inside and out."
And the singer has constantly been using her Twitter page to give details of her diet to show her army of fans that she is eating properly in the run-up to her date at the alter.
When one of her followers said she was 'too skinny' yesterday, Rimes replied: "Well, I swear I just ate four chick-fil-a chicken strips, a chicken breast, rice, green beans and a lemon bar."
Since announcing her engagement to Cibrian, 37, in December, the bride-to-be appears to have upped her diet and exercise regime but her new slim frame is a far cry from her healthy, toned figure she displayed only last summer.
Article continues below advertisement
Rimes admitted she turned to exercise amid the negative press she received when she left her first husband Dean Sheremet to be with Cibrian, who was also married at the time to model Brandi Glanville.
She told Shape Magazine last September: "Just getting to the gym, even for a few minutes, was a big accomplishment. Working out really did make me feel better and kind of saved me. It gave me a bit of sanity.
"I think there is pressure in this industry to maintain a certain level of beauty... beauty is all subjective to me.
"You don't have to be a size zero to be beautiful. I've always aimed at being healthy and fit to be happy with myself, which for a woman can be really hard."
Nutrition expert Dr Farid Zarif previously told RadarOnline.com that he believed Rimes recent weight loss could have been a result of 'pre-wedding stress' – the singer is due to marry Cibrian, 37, later this summer.