PHOTOS: The Sexiest Bikini Babes On The Hollywood Walk Of Fame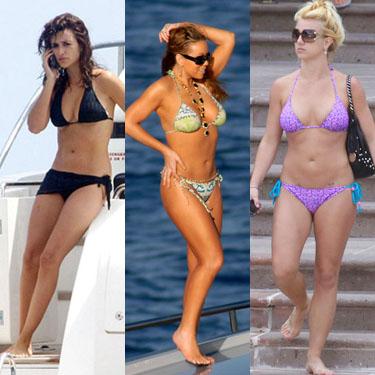 Article continues below advertisement
Reese Witherspoon, Charlize Theron, Nicole Kidman, Sandra Bullock and Halle Berry have a lot more in common than Academy Awards on their bookshelves and sizzling hot bikini bodies -- they also have stars on the Hollywood Walk of Fame. Which one of these superstars has the most fantastic figure? You be the judge.
See Reese by clicking here, Charlize here, Nicole here, Sandra here and Halle here.
Britney Spears soared to international superstardom in the late 1990's for her Billboard chart-topping hits and her abfab figure. One of the scandalous stars favorite pastimes is stripping off her sexy costumes and hitting the beach in skimpy bikinis!
See Britney's rock hard bikini body by clicking here.
No Doubt, Gwen Stefani earned her star on the Hollywood Walk of Fame. The Orange County native has been belting out hits since the mid 1990's and continues to bust her fanny on the stage-and on the beach.
Click here to see Gwen's gorgeous bikini body.
When it comes to exotic beauties on the Hollywood Walk of Fame, Columbian cutie Shakira and Spanish sizzler Penelope Cruz definitely deserve to be honored. Both of the bombshells bring heat wherever they go, but when they strip down and show off their assets, they break the thermostat.