EXCLUSIVE DETAILS: LeAnn Rimes And Brandi Glanville Called Truce After Reality Show Plans Were Shelved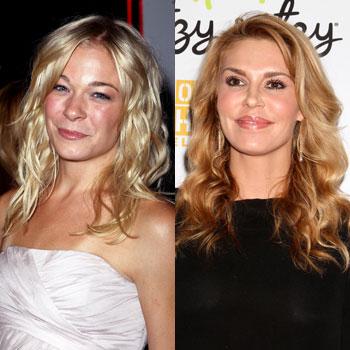 LeAnn Rimes and Brandi Glanville called their Twitter truce after the country singer and her fiancé Eddie Cibrian finally shelved plans for a newly weds reality show, RadarOnline.com can reveal.
The two women have a long history of feuding since CSI Miami star Cibrian walked out on his wife and mother-of-his-two sons to be with Rimes.
However, the former love-rivals took to Twitter over the weekend to announce that they are ending hostilities via the social network forum.
Article continues below advertisement
A source told RadarOnline.com: "They are trying to patch things up and it was big for Brandi when Eddie told her they had no plans to do a newly weds style reality show that had previously been widely reported.
"Obviously, Brandi was worried that this would have involved their sons, Mason and Jake, and she was relieved to find out they were not doing anything behind her back.
"This is what pre-empted their latest announcement and the two women are trying to get along better with one another now – they both realize mistakes were made in the past and all parties are trying to move on now."
LeAnn, 28, wrote on her Twitter page Sunday: "As a collective unit, Brandi and I would like all negativity to cease toward one another.
"We have communicated and have a direct understanding that we are only ourselves on Twitter and have no other accounts that try to destroy one another.
"Please for our families' sake stop the hate now and let us live our lives - we don't need opinions or outside help in order for that to happen."
Article continues below advertisement
Brandi, 38, then re-Tweeted the message, showing her support for what LeAnn had written.
LeAnn and Cibrian, 37, caused controversy when they began an affair during the filming of their movie Northern Lights in 2009.
At the time Eddie was still married to Brandi, with whom he has two sons, and LeAnn was married to her husband of eight years Dean Sheremet.
Both couples have since become divorced - Rimes and Cibrian got engaged to each other over the Christmas 2010 period and are actively planning their wedding.