NEW DETAILS: William & Kate's Big Day -- Inside The Royal Wedding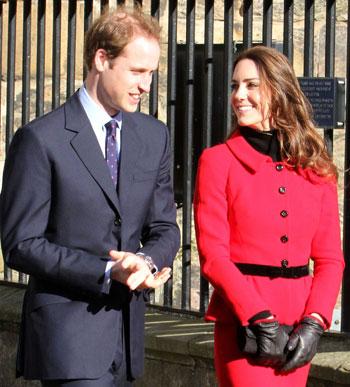 We're now only 23 days away from the royal wedding between Prince William and Kate Middleton, and Good Morning America Wednesday provided some interesting new details about the gala affair that the world is waiting for.
Rehearsals are currently underway for the April 29 wedding, which will be documented by more than 7,000 journalists in town, and at least 60 cameras along the procession route to legendary English church Westminster Abbey.
Article continues below advertisement
The itinerary for the big day is as follows (with all of following times in British Summer Time):
At 7:00 am, an announcement from the Queen's office will proclaim what the titles the young lovers will take, if any.
At 10:00 a.m., all of the VIPs will arrive, with the royal family entering at 10:40 a.m., and Queen Elizabeth and Prince Phillip scheduled as the last guests to arrive.
At 11:00 a.m., Kate and her five bridesmaids will emerge; at the same time, a press release will be sent out with all of the details of Kate's dress including sketches and photos. ABC royal correspondent Katie Nicholl said she feels the reason Kate's dress has been kept under tight wraps because "she genuinely wants to surprise Prince William."
The wedding ceremony will then commence, followed by a 12:15 p.m. trip to Buckingham Palace for photos, and a reception held by Queen Elizabeth.
Watch the video on RadarOnline.com
Later on, at 7:00 p.m., the family will hold an intimate affair of dinner and dancing for 300 guests hosted by Prince Charles, who'll be helping out with the music for the ceremony. Middleton's family has helped contribute financially to the wedding, including paying for the dress, GMA reported.
The young lovers met as students at Scotland's St. Andrew's University back in 2001.