Major League Error: Braves Coach Roger McDowell Apologizes For Gay Slur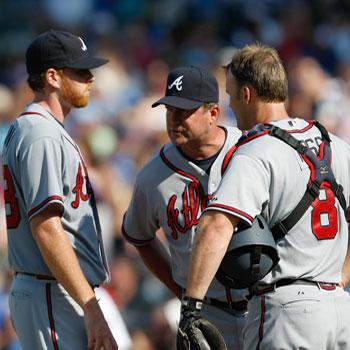 by Radar Staff
Atlanta Braves pitching coach Roger McDowell has issued an apology for his behavior at AT&T Stadium last weekend, but he appeared to be putting some of the blame for the ugly incident on the fans.
"I am deeply sorry that I responded to the heckling fans in San Francisco on Saturday. I apologize to everyone for my actions." McDowell said in a statement Wednesday.
As RadarOnline reported, during the pre-game batting practice between the Braves and the Giants at the Giants home field, McDowell was heard calling three men who were sitting together "homos." He also simulated having sex with a baseball bat!
Article continues below advertisement
Sitting nearby was Justin Quinn and his twin nine-year-old twin daughters. Quinn was outraged at McDowell's behavior and said so. That prompted the coach to tell Quinn, "Kids don't f***ing belong at the ball park." McDowell also appeared to threaten the protective dad, asking him, "how much are your teeth worth?" as he held a baseball bat.
MLB Commissioner Bud Selig has said his office will be investigating the situation. This is obviously far from over.