Major League Error: Atlanta Coach Uses Gay Slurs, Threatens San Fran Fan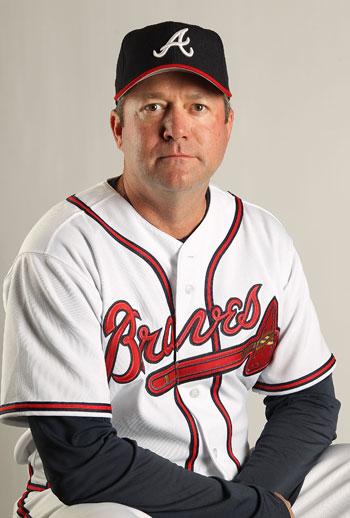 By Jose Lambiet
RadarOnline.com Executive Editor
More trouble for Major League Baseball!
Nearly a month after a man was brain damaged in an assault by opposing fans at Dodger Stadium in Los Angeles , the father of 9-year-old twins is asking MLB to take action against Atlanta Braves pitching coach Roger McDowell.
Justin Quinn, 33, a environmental researcher from Fresno, Calif., claims McDowell came after him with a baseball bat before Altanta's game at the San Francisco Giants April 23 -- because Quinn objected to McDowell calling fans watching batting practice "homos."
Article continues below advertisement
McDowell didn't take a swing and Quinn, who was at the game with twin girls Kylynn and Taylor, was not injured. But he swore out a police complaint and hired Los Angeles lawyer Gloria Allred to obtain at least an apology from McDowell and MLB. Legal action could come next.
Quinn said today he couldn't figure out what provoked McDowell to yell at the fans: "Are you guys a homo couple or a threesome?" McDowell also picked up a bat and simulated sex with it. But when Quinn reminded him that kids were watching, McDowell allegedly said: "Kids don't f****** belong at the baseball park!"
MORE ON:
Celebrity Justice
McDowell, Quinn said, walked up to him with the bat, asking: "How much are your teeth worth?"
Quinn managed to calm McDowell down but today, Quinn said he's disturbed by this season's violence, verbal and otherwise, in baseball.
"I don't expect to experience this on the baseball fields with my kids on a Saturday afternoon," he said.
There's been no response from MLB or the Braves so far.
Said Allred: "There's never a justification for homophobic slurs and sexual innuendos."