Paris Hilton Attacked On Way Into Court!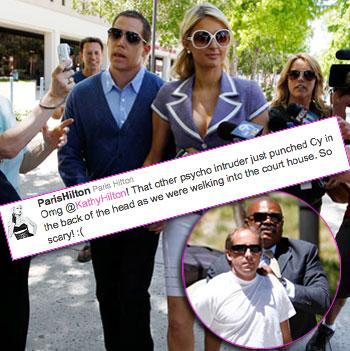 by RadarOnline.com Staff
Where ever Paris Hilton goes trouble isn't far behind.
Paris Hilton and her boyfriend Cy Waits had a scary incident before they entered a Los Angeles County court Wednesday afternoon and RadarOnline was there to witness what happened.
As the couple walked into a Van Nuys, Ca. court, a man took a swing at the pair, and landed a punch on the back of Cy's head. Cy was stunned by the hit but continued into the courthouse, protecting Paris.
Article continues below advertisement
Paris' bodyguards, though recognized the attacker and jumped into action. The man in question, James Rainford, was arrested last October when he rode his bike through the gates of Paris' luxury Beverly Hills community, in a failed attempt to see her.
As RadarOnline reported at the time, he was subsequently ordered to perform community service and was placed on three year's probation.
Paris instantly wrote on Twitter about what happened today. "That other psycho intruder just punched Cy in the back of the head as we were walking into the court house. So scary!"
Paris is in court to testify against another man, Nathan Parada, who is charged with breaking into her home with a large knife in his possession when Paris' boyfriend, Cy Waits, held him at gunpoint until cops arrived. If convicted of the felony burglary charge, Parada could get six years in state prison.
RELATED STORIES:
Paris Hilton To Testify In Court Against Burglar