Exclusive
Dodgers Assault Victim's Family Slam Frank McCourt – Happy He's Ousted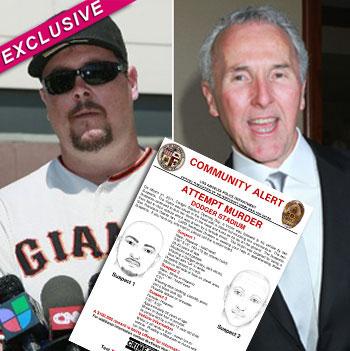 By Cliff Renfrew
RadarOnline.com Staff Reporter
A relative of tragic baseball fan Bryan Stow has told RadarOnline: "I'm glad Frank McCourt has been kicked out of the Los Angeles Dodgers."
John Stow, Bryan's cousin and best friend, has blasted out-going Dodgers owner McCourt for the way he handled the savage assault that shocked America.
Can You Help Identify The Suspects? Check Out Their Composites
And like millions of other baseball fans he is shedding no tears over the news that baseball commissioner Bud Selig has given the unpopular businessman his marching orders.
Article continues below advertisement
"Personally, I'm glad that he has gone," Stow told RadarOnline. "He finally called John's mom two weeks after the attack but he was really matter-of-fact and she got no comfort from the call.
"I was surprised to hear of the news of his departure as the circumstances were unprecedented.
"It is pretty obvious to everyone that there was not adequate security in place before Bryan's attack with no police and Mr McCourt was not interested in looking after baseball fans.
"He is the type of guy who is all about the bottom line and who really only thinks about themselves."
Three weeks after the attack on the San Francisco Giants fan at Dodgers Stadium police have still not made any arrests despite the fact that $150,000 in reward money is on offer for any information that reveals the identity of the two attackers.
And while Stow, 42, remains in a medically induced coma at University of Southern California Medical Center in Los Angeles John Stow is still seething when it comes to the subject of multi-millionaire McCourt.
Article continues below advertisement
Many experts have pointed–out that McCourt was too slow to react after the savage beating and that he originally called it an 'isolated incident'.
Critically, McCourt sacked his experienced former security chief last year replacing him with somebody else while it was Los Angeles police Chief Charlie Beck who finally took over the stadium's security as outrage grew over the Stow attack.
Fans and observers were further outraged when McCourt originally only offered $25,000 in reward money for the attack when court papers filed in his bitter divorce from wife Jamie McCourt showed the couple had taken a whopping in $108 million in personal distributions from Dodgers revenues from 2004 to 2009.
Now John Stow and the rest of his family face an agonizing wait to see if Bryan can recover from his injuries and they are desperate for the culprits to be caught.
He said: "I would not be surprised if they were in Mexico by now and my message for anyone who has any information would be to come forward and do the right thing because they need to be made accountable for what they did.
"We have been overwhelmed by the amount of support we have received from people around the country and it shows how much Bryan was loved and respected.
Article continues below advertisement
"The doctors treating him are still trying to control his seizures and they will need more time to make a full neurological assessment of his injuries but we are trying to stay positive.
"Bryan was a great person and a true sports fan and his attack has been a catalyst for people throughout America because they have had enough of this kind of behavior."
RELATED STORIES:
EXCLUSIVE DETAILS: Dodgers Blood Bath Continues As Frank McCourt Targets Wife Jamie's Hires