Exclusive
Lindsay Lohan's Felony Charge Likely To Be Reduced To Misdemeanor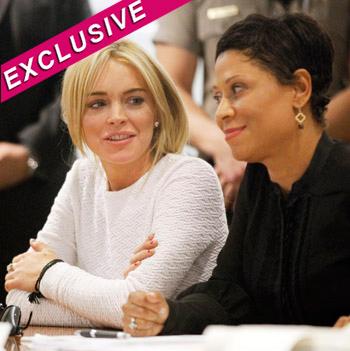 Lindsay Lohan is bound to have a spring in her step with the news that Judge Stephanie Sautner is likely to reduce the Mean Girls star's felony theft charge down to a misdemeanor in court today.
Follow @radar_online on Twitter for live updates on Lohan in court today!
"Judge Sautner has indicated to the DA and Lindsay's attorney that there is a very good chance that at the conclusion of the preliminary hearing she will reduce the charge from a felony to a misdemeanor," a well connected source tells RadarOnline.
Article continues below advertisement
"When Lindsay heard this news, the possibility that the charge could be reduced, she was practically doing cartwheels."
And with good reason – there's a big difference between the two charges – Felony grand theft carries up to three years in state prison whereas misdemeanor grand theft carries a maximum of one year in county jail.
"Lindsay's fate rests in Judge Sautner's hands, and the judge could decide not to reduce the charge in the end, but just the fact that she is considering it gives Lindsay hope," the source close to the actress says.
During the hearing Deputy District Attorney Danette Meyers will be calling the jewelry store owner, the female clerk that was working when the theft allegedly occurred, the investigating officer and the police officer that Lindsay's friend turned the necklace over to.
A Closer Look At The Self-Destruction of Lindsay Lohan
Meanwhile, Lindsay's attorney, Shawn Holley, is going to grill the jewelry store owner over her decision to sell the surveillance video of the alleged theft for a profit, our source says.
Article continues below advertisement
It's anticipated that the preliminary hearing will last one day. Holley will be calling just one witness, a jewelry appraiser. The price of the necklace is going to be a battle of contention between Meyers and Holley.
If the judge decides that the real value of the necklace is far below the listed retail price of $2500, specifically $950 as has been mentioned, it's a no brainer and the charge gets reduced," the Lohan source tells RadarOnline.
MORE ON:
Celebrity Justice
But, even if Judge Sautner does reduce the charge to a misdemeanor, Lindsay still isn't in the clear.
"If Lindsay is ordered to stand trial, even on a misdemeanor, she will still be automatically found in violation of her DUI probation," the source says.
"Lindsay is telling her friends though that the judge won't be sending her to jail on the probation violation at the conclusion of the preliminary hearing tomorrow, rather it will be dealt with at another time, most likely at the conclusion of the case, if and when it goes to trial.
Article continues below advertisement