Exclusive
Lindsay Lohan 'Keeps Violating The Terms Of Her Probation,' Says D.A.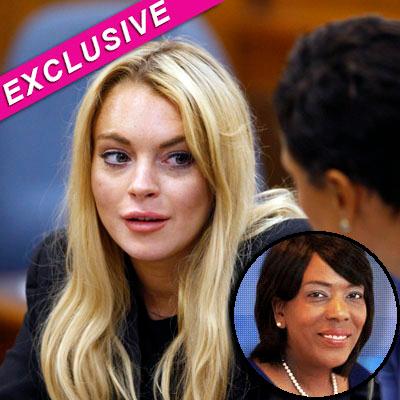 Just days after her surprise interview with Jay Leno, Lindsay Lohan is being read the riot act by none other than Deputy District Attorney Danette Meyers.
In a blockbuster exclusive interview with RadarOnline.com, she responds to Lindsay's bizarre comment that "I'm in the clear now."
Meyers didn't see The Tonight Show but tells RadarOnline.com, "I hope Ms. Lohan is taking this seriously. She keeps violating the terms of her probation. For her sake, I hope she has learned from this. Only time will tell."
Article continues below advertisement
Meyers also is taking issue with the decision by the judge in the theft case to knock the charge down from a felony to a misdemeanor.
"I respectfully disagree with Judge Sautner's ruling," Meyers says.
"Ms. Lohan was brazenly wearing the necklace three blocks away from the jewelry store several days after it was taken, and that is felony conduct, plain and simple. You don't forget to take a necklace off," Meyers tells us.
Testimony at the preliminary hearing also revealed that Lindsay was at Kamofie & Company several days before the alleged necklace theft occurred, and she tried on a pair of earrings. The store clerk testified that Lilo still had one earring on as she attempted to leave the store. The clerk asked Lindsay to remove the earring, and she did.
Lindsay's next appearance in connection with the theft case is set for May 13th at the LAX Airport Courthouse for a pre-trial hearing, and trial is set for June.
Article continues below advertisement
With the case being reduced to a misdemeanor, there is a very strong chance that the case will now be handled by the City Attorney, and not by the District Attorney's Office.
Sources connected to the case tell us, "no decision has been made yet if Meyers or the City Attorney will take the case. The decision should be made in the next serveral days."
RELATED STORIES:
Lindsay Lohan Could Serve Just 'Hours' In Jail For Probation Violation