EXCLUSIVE: Mega Millions Winner Waives Child Support From Estranged Husband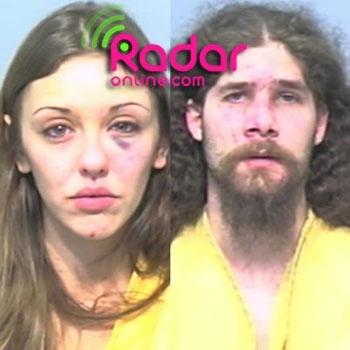 Mega Millions lottery winner Holly Lahti has let her estranged husband off the hook. She's waived her right to child support and medical expenses for their two daughters.
EXCLUSIVE DOCUMENTS: Idaho Lottery Winner Waives Child Support
RadarOnline.com has learned that an Idaho judge last week ruled Joshua Lahti no longer has to pay support, a decision which was fully supported by his rich ex, who won a $190 million Mega Millions jackpot this past January.
Article continues below advertisement
A court spokesman told RadarOnline.com: "Following this ruling Mr Lahti is no longer obliged to make these payments (however) we do not know the circumstances surrounding this ruling."
The deal to omit her estranged hubby Joshua from having to make any future payments for his daughters, aged 12 and 10, was green lit by Holly's lawyer Jennifer Brumley.
It is the first clear indication that the couple is moving towards making a deal about how to split her sudden fortune.
Because the pair is yet not divorced, the husband could be entitled to a chunk of the winnings.
Lahti, 29, has not been seen or heard in public since she won half of a $380 million jackpot in the January 4 drawing.
But, it's not all roses for the wealthy single mother-of-two: a pal says that Lahti has been inundated with "begging letters" from all across America since announcing her huge windfall, forcing her to flee into hiding.
Article continues below advertisement
"Holly has been inundated with begging letters which must have been difficult for her," the source said.
"These letters have been sent to her neighbors as well, but everybody just rips them up. They are sent from all over America and involve every kind of story.
"After her win Holly was portrayed in a certain light, but she is actually a smart lady who has a good head for figures, she worked in a bank after all.
"Nobody knows exactly where she is but she left fairly quickly with her daughters and we are told that they are all happy and healthy."
The security of her kids was a concern for the mom, the friend said, because her rags-to-riches tale got so much media attention.
"She did the right thing to get out of town and nobody knows if she will ever return but her house has not been put up for sale yet," the source said.
Article continues below advertisement
VIDEO: Change Of Dinner Plans Lands SoCal Couple $266 Million In Lottery
"This whole lottery story was massive and it turned not only Holly's life around but lots of people in our town too because we are such a small community.
"Gradually things are getting back to normal.
"If Holly does return then people would welcome her, but as time goes on that appears less and less likely."
RadarOnline.com revealed how Holly and Josh had been invoilved in bad marriage that led them to a run-in with police, resulting in charges being filed against the two.
Holly and Josh were married back in 2001 and although the exact status of their marriage is not known, they are believed to still have contact with one another.
Following their split she was linked with Idaho local Jonathan Aune -- who himself had several run-ins with the law -- including charges of driving without a license, speeding and failing to show proof of insurance.