Exclusive
EXCLUSIVE: $380 Million Lottery Winner & Husband -- Arrest Records, Mug Shots & Black Eye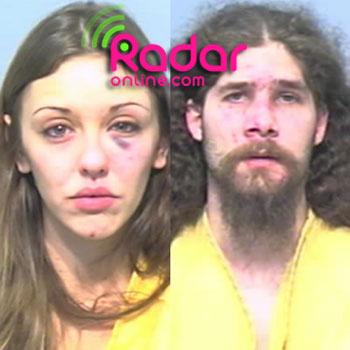 Holly Lahti, the 29-year-old mother of two who won half of a $380 Mega Million lottery jackpot, has an arrest record and her husband, Joshua Lahti has been arrested more than 15 times, RadarOnline.com has learned exclusively.
Both were arrested on January 6, 2003 for committing battery and their mug shots - obtained by RadarOnline.com - show Holly with a deep bruise under her left eye.
Joshua was also cited for violating a no contact order.
Article continues below advertisement
VIDEO: Change Of Dinner Plans Lands SoCal Couple $266 Million In Lottery
Married in 2001, Joshua and Holly were separated (according to the Associated Press) when her bad luck in marriage turned into good luck in the lottery as she became an instant millionaire and celebrity this week, bringing attention to their small hometown of Rathdrum, Idaho.
But RadarOnline.com discovered that Joshua Lahti has an extensive history of run-ins with the law. He was charged with battery and violating a no contact order during their dual 2003 arrest and she was charged with battery.
And that's just a glimpse into their stormy relationship.
In another incident that appears related to their marriage, RadarOnline.com discovered that Joshua was arrested in 2002 on charges of second degree kidnapping, domestic battery and assault with a child present, false imprisonment, battery and a drug paraphernalia charge.
Holly was subpoenaed in that case, public records obtained by RadarOnline.com show. A no contact order was issued.
Article continues below advertisement
Joshua was sentenced to prison in the lengthy legal proceeding and appears to have served some time behind bars before the prosecutor amended the case and dropped all charges.
Public records obtained by RadarOnline.com also show that Joshua was found guilty of DUI last year and sentenced to 90 days in jail, with 85 days suspended. His other arrests include traffic offenses as well as another domestic violence case in 2000.
Since winning the lottery, Holly has not come forward publicly but did quit her bank job. One of her friends admitted to RadarOnline.com that Holly "deserved better" when it came to her stormy marriage.
Sussana Spencer who works at Inland North West Bank said: "We are all ecstatic for her - it could not have happened to a better person."
RELATED STORIES: