EXCLUSIVE DOCUMENT: Eviction Process Started To Oust 'Octo-Mom' From Her Home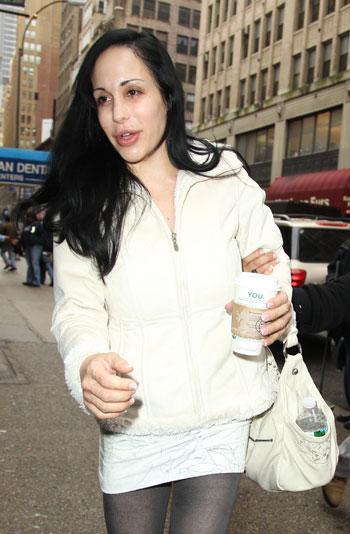 Amer Haddadin has launched a new bid to get 'Octo-Mom' Nadya Suleman and her 14 kids booted-out of their La Habra home in California, RadarOnline.com can exclusively reveal.
Haddadin has taken the first step to evict Suleman from the four bedroom, three bathroom 2,454 sq ft property where she has been living since Haddadin originally sold the property to Suleman's father Ed Doud for $565,000 in 2009.
Article continues below advertisement
He has sent letters to Indy Mac Loan (mortgage holder), Jeffrey Czech (her lawyer), Ed Doud (her father) and Moneyline Escrow (the company that oversaw the transfer of titles) that he now intends to foreclose on the house.
In a complicated transaction the title was transferred to her and her lawyer Jeff Czech under a company called Harmony Enterprises and she was allowed to stay in the home although she missed making a $450,000 balloon payment last October.
Article continues below advertisement
"The stress of the whole situation has got to him and he hates the fact that he is painted as 'the bad guy' who is trying to kick Nadya and her family out of her house.
"He has tried to be reasonable with her but nobody will respond to him and he just wants to get the whole matter resolved now."
VIDEO: 'Lie! Lie! Lie!' Octo-Mom Gets Verbal Beating, Financial Advice From Suze Orman On Oprah Show
Haddadin has contacted the Home Retention Department of Indy Mac Loan as he tries to get his home back from America's most notorious mother.
Article continues below advertisement
In the letter dated April 5, 2011, he writes:
"I am the gentleman who has the questionable distinction of owning the property where Nadya Suleman 'Octomom' is currently living with her family. The situation is currently very difficult and I hope that my explanation is clear.
"On 2/26/09, I received an offer from Ed Doud, Mr Suleman's father. We entered into an All Inclusive Purchase Money Deed of Trust dated March 9, 2009. The terms included a balloon payment of $450k (with interest) no later than March 9, 2010. In the interim they were to pay monthly payments equal to the amount I currently owe you on the above loan. Due to financial difficulties I agreed to a modification of the terms on 4/6/10 changing the due date to October 9, 2010. This was drafted by her attorney Jeff Czech.
"I have continued to experience repeated late payments and received no balloon payment throughout this time. They continue to request extensions, which I have granted, feeling great sympathy for her family situation. In addition I have received notice from the company that my payments will be increasing, as the terms were for an adjustable loan.
"I find this a great source of worry and dissention. Her attorney will not speak to me, although he is responsible for forwarding payments to me monthly. She will not return calls. Her father says that he is very sorry, but has nothing to offer. Apparently she felt she would have many opportunities for monetary gain, but none have come through. Her last demonstration to the media was a soft porn photo shoot, which was actually disgusting."
Article continues below advertisement
Haddadin was referring the kinky fetish S&M video Suleman shot where she was seen whipping a grown man dressed in a diaper.
RadarOnline.com revealed that the man was Los Angeles radio DJ David Gonzalez who previously had a criminal record for spousal battery and drug possession.
The bizarre stunt caused Suleman, 35, to lose a lot of sympathizers who had rooted for her since she gave birth to eight babies during a single pregnancy in 2009.