EXCLUSIVE: Octo-Mom's 'Whipping Boy' Has Secret Arrest Record -- For Beating Ex Lover!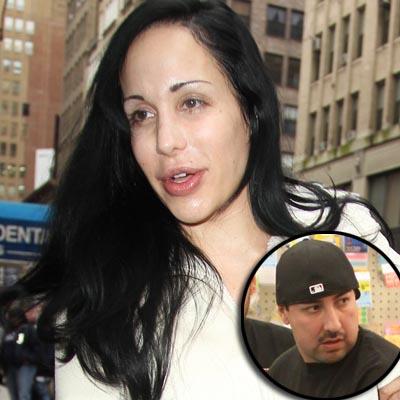 The diaper-wearing adult who allowed Octo-Mom to spank him during a wild fetish video is actually a convicted criminal who was once accused of beating his ex-lover, RadarOnline.com has exclusively learned.
You might remember "Tattoo" -- otherwise known as David Gonzalez -- as the man who orchestrated Nadya Suleman's yard sale last year in a desperate effort to raise money to pay off her mortgage.
But look out Nadya, Gonzalez isn't the fetish-admiring man you think he is: he's got a pretty extensive arrest record and he stinks at managing money!
Article continues below advertisement
According to court records obtained by RadarOnline.com, Gonzalez -- the co-star of a raunchy tape in which Octo-Mom (the mother of 14 children) is seen wearing a black corset and black leggings, with a whip -- is currently on probation for a variety of crimes, including battery of a spouse, possession of marijuana and failing to provide a child restraint.
In June 2010, Gonzalez was arrested by the Ontario Police Department and later charged by the San Bernardino County District Attorney for misdemeanor Battery on a Spouse/Cohabitating/No Cohabitating Former Spouse.
After accepting a plea deal from prosecutors, the battery charge was later dismissed and Gonzalez pled guilty to the amended charge of Disturbing the Peace.
As part of his plea agreement, Gonzalez was ordered to spend two days in jail, pay restitution to the victim as well as $405 to a domestic violence fund. He is not to harass, annoy, threaten, stalk, sexually abuse or commit further acts of violence against the victim.
Article continues below advertisement
In addition, he was ordered to complete 52 weekly sessions of a domestic violence batterers' program and submit proof of his enrollment to his probation officer.
Gonzalez is not to possess firearms or break any laws other than minor traffic laws.
He is due in court next month for a probation review which regardless is to remain in effect until November 2013.
In another incident, in August 2009, Gonzalez was arrested and charged for driving on a suspended license as well as misdemeanor possession of marijuana.
In a plea bargain, Gonzales pled guilty to the offense and the possession charge was dismissed. He was placed on probation and ordered to pay a $2,116 fine and not drive without a proper license or insurance.
Three-and-a-half years earlier, he was also charged and pled guilty to "failing to provide a child restraint" and was ordered to pay a $204 fine.
Now it's starting to make sense as to why the radio personality has latched on to Suleman for publicity: Gonzalez had some money problems of his own!
Article continues below advertisement
On March 10, 2010, he filed for Chapter 7 bankruptcy in the Central District of California stating he owed over $56,000 to various collection agencies as well as back rent and unpaid auto loans.
Declaring he was a single man with kids -- two biological and two step-children ages 18 months to 13 years old -- Gonzalez claimed his income was $3640.04 a month.
But that all changed in June 2010, when he landed a radio job with Big Boy Network, bringing in an extra $1000 a month and, according to his written statement, even picked up a wife!