Exclusive
EXCLUSIVE INTERVIEW: Octo-Mom 'Scared' Child Services Will Take Away Her Kids After 'Vulgar' Fetish Video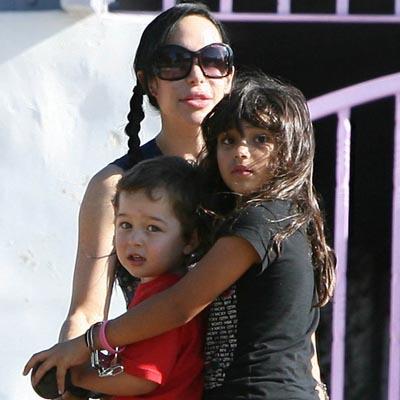 A destitute Nadya Suleman is afraid Child Protective Services is going to take away her 14 children after she appeared in a wild fetish video wearing a black corset and whipping a man dressed as a giant baby.
"I am scared that Orange County CPS will misunderstand my intentions or my parenting abilities and take my kids away from me," Octo-Mom said in a new interview with RadarOnline.com.
As RadarOnline.com previously reported, the man in the video with Nadya, David Gonzalez, has an arrest record and is currently on probation for a variety of crimes, including battery of a spouse, possession of marijuana and failing to provide a child restraint.
Article continues below advertisement
"I had no idea that he had a criminal record," Octo-Mom told RadarOnline.com. "I thought he was a professional DJ on a reputable radio station who had come up with a funny idea for a skit.
"Instead of a lighthearted skit with a naughty edge, it turned out to be a vulgar and unprofessional video that I deeply regret playing any part in."
Nadya has feared that CPS would take away her children since the octuplets were born in January 2009, and she told RadarOnline.com what she is doing now to ensure their safety.
"I am doing everything I can to be a great parent. I only have one nanny now, so that I can be with my kids 100 per cent. I just bought a new minivan that seats them all safely and I take them to school and on trips all the time."
As for the fetish video she performed in, Nadya slams the final product.
"I was horrified at the end result, and it was not presented as they had promised."
RELATED STORIES: