Exclusive
EXCLUSIVE: Ashley Judd Slams P Diddy & Snoop Dogg In New Memoir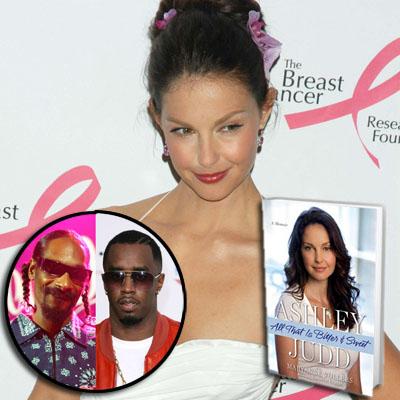 One thing's for sure -- Ashley Judd wont be turning up in a Snoop Dogg or P Diddy video anytime soon.
The Kiss The Girls actress ripped into the two performers, as well as the world of hip hop "with it's rape culture and insanely abusive lyrics and depictions of girls and women as 'ho's'" in her shocking new memoir All That Is Bitter And Sweet - and RadarOnline.com can bring you all her no holds barred comments.
Article continues below advertisement
Talking about her work in AIDS awareness, Judd makes her opinion crystal clear when it comes to the activist organization YouthAIDS choice in spokespeople for a past campaign, singling out Snoop and Diddy.
"YouthAIDS created hip public service announcements for TV and radio using popular local and international celebrities and athletes and was participating in the MTV World AIDS Day 'Staying Alive' concerts," she writes.
"Along with other performers, YouthAIDS was supported by rap and hip-hop artists like Snoop Dogg and P. Diddy to spread the message...um, who? Those names were a red flag.
"As far as I'm concerned, most rap and hip-hop music -- with it's rape culture and insanely abusive lyrics and depictions of girls and women as 'ho's' -- is the contemporary soundtrack of misogyny.
"I believe that the social construction of gender -- the cultural beliefs and practices that divide the sexes and institutionalize and normalize the unequal treatment of girls and women, privilege the interests of boys and men, and, most nefariously, incessantly sexualize girls and women -- is the root cause of poverty and suffering around the world."
Article continues below advertisement
As RadarOnline.com previously reported Judd is laying it all bare in her new book - detailing her childhood years filled with lies, pain and sexual abuse.
"My mother, while she was transforming herself into the country legend Naomi Judd, created an origin myth for the Judds that did not match my reality," Ashley shares.
"She and my sister Wynonna have been quoted as saying that our family put the 'fun' in dysfunction. I wondered: 'Who, exactly, was having all the fun? What was I missing?'"