Charlie Sheen Staying At Trump Hotel In New York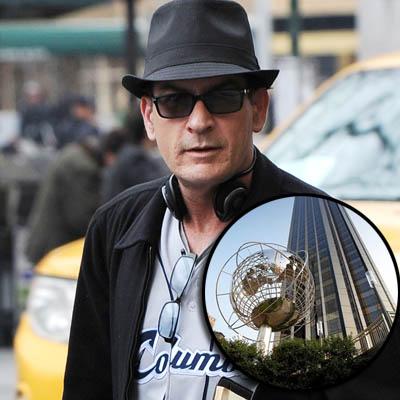 He may not be the perfect hotel guest, but still, Charlie Sheen apparently didn't have any trouble finding a posh place to stay during his stop in New York for his 'My Violent Torpedo of Truth/Defeat Is Not an Option' tour -- he's staying at Donald Trump's Trump International Hotel, in a swanky $890-a-night suite!
The last time the actor was in The Big Apple, he notoriously trashed a hotel room at The Plaza during a drug-crazed episode while a porn star cowered in the bathroom. But that was last October! Guess The Donald is a forgiving guy -- and, of course, knows a good PR opportunity when he sees one.
Article continues below advertisement
As RadarOnline.com previously reported, Sheen, 45, arrived in Mahattan Thursday along with his "Goddesses" -- Natalie "Natty" Kenly and Rachel Oberlin (formerly porn starlet Bree Olson) -- in anticipation of his two sold-out shows at New York's famed Radio City Music Hall.
"We're not going out, we're ordering a butt load of room service and watching Family Guy and Two and a Half Men," Kenly told reporters, according to My Fox New York.
Sources told the outlet that Sheen and around 15 members in his entourage, staying at a dozen rooms in the hotel through Sunday, ordered food from the swanky Jean Georges restaurant.
Sheen's on the fifth stop in his 20-city tour, and after last Saturday's debacle in Detroit, has gotten much better results in Chicago, Cleveland and Columbus, respectively.
It's interesting that Trump is letting Sheen stay at his place, after the actor's October rampage at the Plaza Hotel, as well as his own backstory with the Major League star. According to the NY Post, Trump had warned Brooke Mueller's mother Miore Fiore, who's a member of his exclusive Mar-a-Lago Club in Palm Beach Florida, not to let her marry the hard-partying actor.
Article continues below advertisement
The NY Post reported that the Celebrity Apprentice ringleader told DC magazine Human Events editor Jason Mattera that he told Fiore: "You cannot let your daughter marry Charlie Sheen.
"I said, 'Don't let your daughter marry this guy. It's the wrong guy,'" Trump said.
"And she was impressed with Charlie Sheen... Isn't it wonderful, and isn't it great, and they had a beautiful wedding, and it's a disaster," Trump said, without naming Fiore specifically. "So she told me, 'I made a mistake.' She made a mistake, and she did make a mistake."