VIDEO: Sarah Silverman Makes Out -- With A Unicorn!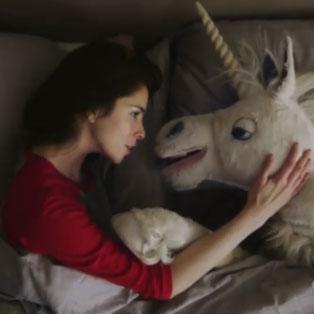 Looks like Sarah Silverman is definitely over Jimmy Kimmel.
In a hilarious new music video, we see Silverman bedding a unicorn (yes -- a unicorn!), laughing over sushi with the mystical creature, and sharing tender moments in the kitchen with it before discovering a suspicious text leading her to believe her 'uni-lover' is horsing around with someone else.
The video -- titled Sweet Desire and posted Tuesday on YouTube -- features Aerosmith performing Angel as the background music.
Article continues below advertisement
"I know I have horse-like features but I'm a person!" a heartbroken Silverman tells the cheating unicorn.
But fear not, love conquers all and the two lovers reunite in the end!
Watch the video on RadarOnline.com
The Henson Company created the Seranading Unicorn that belts out Michael Bolton, Boyz 2 Men and Culture Club hits for Juicy Fruit's online campaign.