AUDIO: Sarah Silverman Says Charlie Sheen Made Crude Joke About Her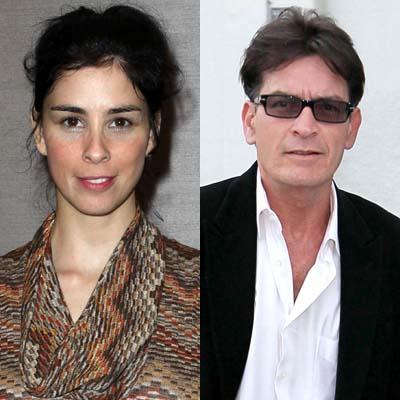 Comedian Sarah Silverman gave details about a crude joke Charlie Sheen made about her when he appeared on her ex-boyfriend, Jimmy Kimmel's late-night show, and RadarOnline.com has the audio.
"Jimmy told me and um, you know I think it, from what I hear it sounded actually funny," Silverman told Detroit's Mojo In The Morning co-host Shannon Murphy about the joke that was edited out of Monday night's show.
Article continues below advertisement
According to Silverman, Sheen made a joke about her that would have been more relevant if she and Kimmel were still dating, which is why they edited it out.
"He like, put his, you know he said, 'Oh by the way', right before he left he said something like, 'Oh by the way, that wh*re Sarah Silverman left this at my house.' and he put like a toothbrush, slammed a toothbrush on the desk.
"Personally I think that's funny. I mean I think I would be... I would have a lot of nerve to get offended by that or anything."
Silverman said "it didn't make sense" because her and Kimmel "haven't been together in like, two years."
"I think he like respectfully edited it out," Silverman said of Kimmel.
You can listen to Silverman's radio interview here.