Exclusive
Bad Flicks, Bad Investments, Bad Attitude: What's Wrong With Nicolas Cage?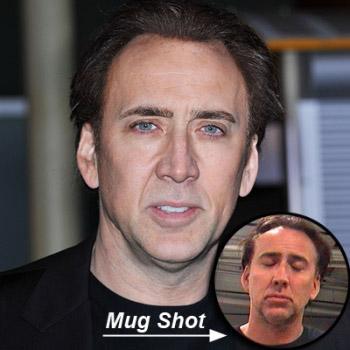 by RadarOnline.com Staff
He was once one of Hollywood's hottest commodities who raked in $40 million a year.
But with a domestic battery charge now hanging round his neck and the IRS on his tail, it seems Nicolas Cage's life is crashing down around him.
Now, RadarOnline is taking a deeper look into the mounting troubles of the Oscar winning Leaving Las Vegas star.
By his own admission, Cage is suffering a catastrophic financial meltdown, currently owing more than $14 million in unpaid taxes.
Article continues below advertisement
And a breakdown of his monetary mishaps paints an alarming picture:
Four Federal tax liens filed against his properties in three different states, each for over $6 million.
Six homes homes foreclosed, including his Las Vegas pad, beloved Bel Air compound, two Malibu mansions and 2 New Orleans properties.
Homes forced sold by creditors in England, Bavaria and New York.
A $629,934.64-IRS lien filed last month after he failed to pay the required 35 % federal-tax on large gifts.
What's more, Cage is suing his former business manager, Samuel Levin, for $20 million, blaming him for his financial ruin. Levin, however, claims Cage is his own worse enemy. Levin says in his defense that the actor squandered his fortune on 15 mansions, four yachts, a Gulfstream jet and nine Rolls-Royce Phantoms.
And that's just for starters.
Cage also had legendary collections of vintage wristwatches, comic books, motorcycles, Elvis Presley memorabilia, and for a time had one of the largest private wine cellars in Los Angeles.
They're all gone.
Cage's film career, meanwhile, imploded along with his finances. Forbes once listed Cage as one of the 100 most powerful celebrities, but box office figures from his latest movies tell a far different story.
Article continues below advertisement
While his 2004 hit National Treasure pulled in a whopping $35.1 million in its opening weekend in the US, his 2011 flop, Drive Angry 3D' took just $5.19 million. His recent flick Season Of The Witch was also branded an 'embarrassing failure'.
Now, the 47-year-old got himself arrested in New Orleans early Saturday morning after an intoxicated argument with his wife, Alice Kim. He was charged with domestic abuse and disturbing the peace.
EXCLUSIVE: Cops Called To Restaurant After Incident With Nic Cage