Exclusive
EXCLUSIVE: Cash-Strapped Nicolas Cage Asks Court: Don't Let My Business Managers Speak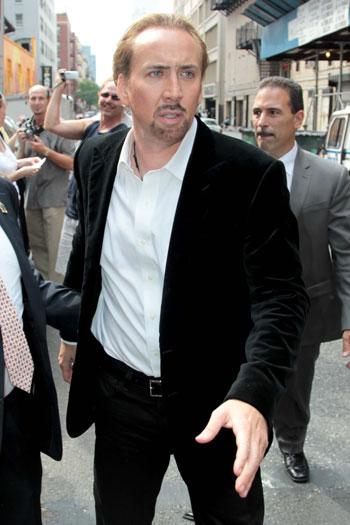 Silence is golden.
Nicolas Cage, facing financial ruin, is asking a Los Angeles court to ban his high-powered business managers from speaking to Nevada State Bank, which is suing Cage over a house he once owned that went into foreclosure.
The Rock movie star was previously ordered to pay the bank $2.5 million dollars, as RadarOnline.com previously reported.
READ THE COURT DOCUMENTS HERE
Lawyers for the bank state in a court filing that Team Cage "have (1) possession or control of property belonging to the judgment debtor; (2) are indebted to the judgement debtor; (3) otherwise have information about the judgement debtors property and other assets."
Article continues below advertisement
The bank is requesting Cage's business managers appear for a deposition in early January 2011.
EXCLUSIVE PHOTOS: Nicolas Cage Is Selling His Bel Air Kingdom
However, the Hollywood star has told court his "private financial and business records, confidential tax returns, confidential communications with tax authorities and documents" should be protected by attorney-client privilege.
His lawyer said, "Significantly, Defendants have demonstrated an intent to publicly disclose private confidential information to harm Cage's reputation and public standing and to obtain undue advantage in this litigation."