Nicolas Cage's Bel Air Mansion Gets New Owner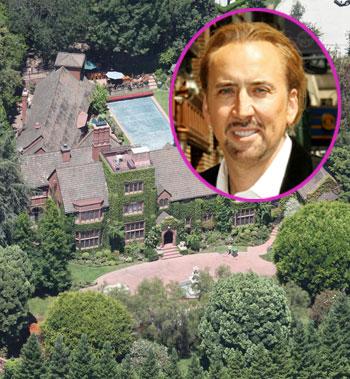 Actor Nicolas Cage finally said 'goodbye' to his famous Bel Air mansion this week after it was snapped-up for $10.5 million – three times less than its listing price several years ago, RadarOnline.com can reveal.
A mysterious limited liability company bought the house that was once owned by Tom Jones and Dean Martin and which Cage tried to sell for $37 million back in 2007.
The 1940 Tudor style house, which Cage lost to foreclosure earlier this year, was surrounded in red tape with six loans totaling $18 million securing the property and did not receive any bids when it was offered at auction at Pomona Court back in April.
Article continues below advertisement
But when Citibank put it back on the market at a reduced price of $11.8 million, it attracted a stream of potential buyers and offers before it entered escrow at the end of July and finally closed on Tuesday.
The Colcord-designed house sits on an acre, has a central tower, a custom wine cellar, a 35-seat home theater, six bedrooms, nine bathrooms and a swimming pool.
It's a 2,500 square foot entertainment complex which was commissioned by Dean Martin back in 1974.
Although Forbes Magazine put his 2009 earnings at $40 million, the actor has been plagued with financial and IRS problems and lost several homes to foreclosure in recent times.
In 2009, Cage sued his former business manager Samuel J Levin at Los Angeles Superior Court claiming he had led him down a path to financial ruin.
Levin counter-sued claiming that the star spent 'epic amounts of money' and that he owned 15 homes around the world, four yachts, an island in the Bahamas, a private jet plus millions of dollars worth of art and jewelry.
Article continues below advertisement
In January 2010, the foreclosed Nevada home once owned by Cage sold for about $3.5 less than what the actor paid for it in 2006.
Cage's Las Vegas home went into foreclosure in December 2009 following the announcement that the 46-year-old star owed the IRS more than $6.6 million in back taxes dating back to 2002.
The actor has been hit by the recession just like millions of other Americans and a bank also snapped up two of his New Orleans homes at auction.
Regions Bank paid $2.3 million for Cage's 10,300 square foot property the LaLaurie mansion – the same bank also paid $2.2 million for the actor's 13,200 square foot mansion on Prytania Street.
The bank had foreclosed on the properties for unpaid mortgage debts with the auction being hosted by the Orleans Parish Civil Sheriff's Office.
In July, the IRS placed liens on the star's New Orleans homes for $6.6 million in unpaid taxes.
Article continues below advertisement
The Gone In Sixty Seconds star has been cutting back on his one-time booming property empire by also selling a Bavarian castle that he used to own and mansion in Bath, England.
Cash-Strapped Cage Selling Bavarian Castle
The one time high-spending actor is said to be reassessing his finances so he can pay off a string of tax bills dating back to 2007.
RELATED STORIES: