VIDEO: LaToya Jackson Tells Ellen That Star Jones Is 'Mean'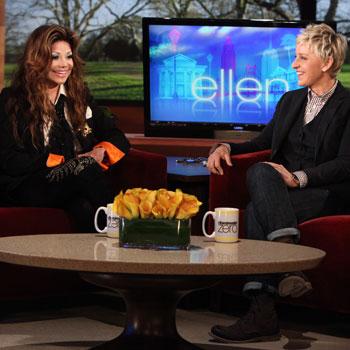 LaToya Jackson calls her Celebrity Apprentice co-star Star Jones "mean" on Wednesday's edition of Ellen, and RadarOnline.com has all the details for you.
"Celebrity Apprentice contestant NeNe Leakes was here not too long ago and she doesn't care for Star too much," Ellen DeGeneres told LaToya. "Are you having a hard time with Star as well?
"I think everybody has a hard time with Star," Jackson said of Jones, the 49-year-old attorney, and former co-host of The View. "I really do."
Article continues below advertisement
Ellen asked, "She's a tough one, right?"
"She really is," Jackson said.
"Is it tough or is it mean?" Ellen asked. "What is it?"
"Ok, I don't want to say anything really bad," Jackson said.
"Ok, just say something sort of bad," Ellen pried.
Jackson countered, saying "What do you think it might be?"
"Well, she seems ... I don't like to judge because I don't know, but she seems very, very tough," Ellen said.
"In all fairness, yes," LaToya confirmed.
Watch the video on RadarOnline.com
"Well, don't just agree with me: Is she mean or is she tough?" Ellen asked.
"Ok, she's mean ... because I always say, if I had lost that much weight I would have been so happy and pleased with myself," LaToya said in reference to Jones' well-documented gastric bypass surgery of yesteryear. "It's something inside that's hurting her to react that way to everyone ... just put a smile on your face sometimes!"