Exclusive
EXCLUSIVE: Star Jones And NeNe Leakes Call A Truce -- Off Camera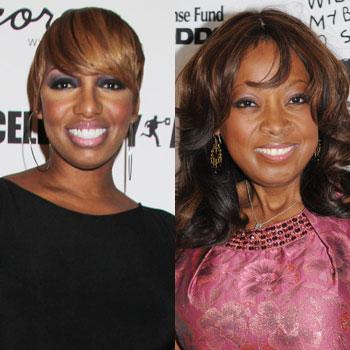 Celebrity Apprentice stars NeNe Leakes and Star Jones are trying to mend their stormy relationship when the cameras are not rolling on the popular NBC reality show, RadarOnline.com can exclusively report.
The battling divas previously came to physical blows on Donald Trump's show which has already axed David Cassidy and Lisa Rinna.
But the two women have called a tentative truce and are trying to get along better after they both realized things were in danger of getting out of hand.
Article continues below advertisement
A source told RadarOnline.com: "Both NeNe and Star are trying to get along better off set – it was really only when the show started taping that their competitiveness kicked-in.
"NeNe felt slighted by Star who she thought was not showing her enough respect – while Star believed that NeNe was all show and no substance.
"They are both head strong women and NeNe believed Star was trying to boss the other contestants around and on top of that they were feuding over hair, wardrobe and make-up too.
"But they are trying to be more accepting of their differences now although producers want to ramp-up their rivalry when the cameras are rolling because they believe it could translate to high ratings."
NeNe poured fuel on reports that the combustible pair really did not get along after she went on the Wendy Williams Show recently and confessed to the host: "Star is special... I wouldn't spit on her if she were on fire."
Article continues below advertisement
In the most recent episode of Celebrity Apprentice Lisa Rinna reacted angrily towards Star when she was axed from the show.
During her final minutes in the boardroom she said to Jones: "you threw me under the f***ing bus!"
As the women on her team faced Trump, most of them turned on Rinna for her lack of leadership and indecisiveness -- no one more than fellow divas Star Jones and Dionne Warwick.
When Trump asked Rinna which two of her teammates should be on the chopping clock, along with her, she said -- to no surprise --Jones and Warwick.