VIDEO: Dionne Warwick Challenges The Donald To Fire Her On Celebrity Apprentice -- And He Does!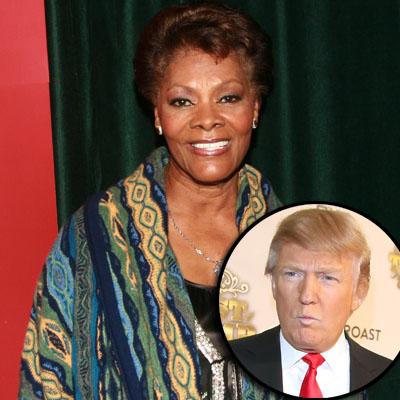 Even with a network of psychic friends, Dionne Warwick didn't see this one coming.
The That's What Friends Are For singer boldly challenged Donald Trump to fire her on Sunday's edition of Celebrity Apprentice, and The Donald reciprocated by giving her the boot.
The premise of Sunday's show was that the men's and women's teams, led by Lil' Jon and NeNe Leakes respectively, each had to produce an emotional, people-oriented 30-second commercial for ACN, a global communications company.
Article continues below advertisement
The men's team won with a spot that cast team member Gary Busey as a grandfather talking to his grandson, who turned out to be in a same-sex relationship with former Oakland A's star Jose Canseco, unbeknownst to Busey's character.
The women's did an emotional spot in which a dad was talking to his daughter in Paris, highlighting team member (and Oscar-winner) Marlee Matlin's acting skills. The finished product was solid, in was in spite of plenty of infighting on the women's team between manager Leakes and team members Warwick and LaToya Jackson.
Watch the video on RadarOnline.com
"LaToya doesn't really know anything -- yes, she's sweet, but she can't tell you one plus one," the Real Housewives of Atlanta star said of her teammate.
In the end, the men's commercial was chosen as the better one for its' viral possibilities.
Warwick was called out for leaving early during the production of the commercial by Leakes, who also bickered with Jackson in the boardroom. Angered by the turn of events, Warwick -- acting like a petulant child -- dared The Donald to fire her, and viewers got to witness an annoyed Trump go in for the kill.
Article continues below advertisement