VIDEO: Demi Lovato Breaks Silence On 'Darkest Time Of My Life'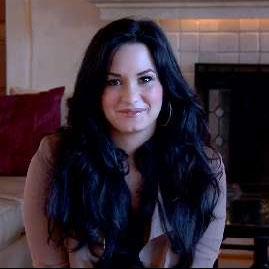 Camp Rock star Demi Lovato has broken her silence after disappearing for four months due to "emotional and physical issues," as the 18-year-old Disney star uploaded a video online in which she proclaims she's "back," and thanks her fans repeatedly for their support during her rough patch.
"Hey guys, its me, Demi, I wanted to send you a message... and let you know that I am back and home," she said in the video message.
Article continues below advertisement
"I read all of the tweets, the trending topics and the fan mail and your support is what got me through this," she said in reference to the four-month sabbatical she took to deal with some "very, very difficult issues," which were widely speculated on in the media as anorexia and cutting.
"The journey that I've been on has been very difficult over the past few months. I was dealing with issues that I know not only girls just my age but of all ages are dealing with."
"I can't tell you how much light you guys brought into my life in probably the darkest time of my life," Lovato said. "Without you guys, I wouldn't be here today."
"I wanted to let you guys know that I'm excited to get back to work ... I love you all and I couldn't have done this without you."
Watch the video on RadarOnline.com
As RadarOnline.com previously reported, Lovato dropped off her international concert tour with the Jonas Brothers last November to enter rehab for "emotional and physical issues," according to her rep.