Exclusive
EXCLUSIVE INTERVIEW: Demi Lovato Is 'Clearly In Distress,' Says Dr. Drew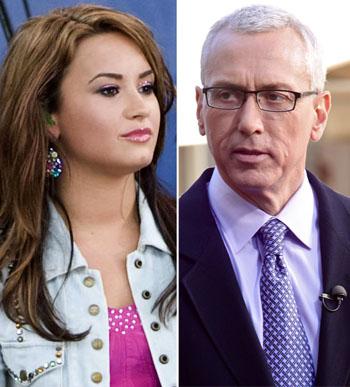 Demi Lovato's shocking decision to leave the Jonas Brothers tour and seek treatment for what was described as "emotional and physical issues" after reportedly punching a female dancer on the tour was "a crisis situation," according to Dr. Drew Pinsky.
Dr. Drew, a board certified addiction specialist who has not treated Demi, told RadarOnline.com: "This was obviously an acute situation that sounds like she is clearly in distress. For Demi to be admitted to a treatment center, she had to meet certain criteria, whether it's psychiatric or substance abuse, or both.
Article continues below advertisement
"There are reports that Demi sought treatment because she was the victim of bullying. Bullying isn't a psychiatric diagnosis. Bullying is very, very serious and it could have led her to have issues with food, but she couldn't have been admitted to a treatment center because of that.
"Bullying isn't a diagnosis."
Dr. Drew told RadarOnline.com Demi's decision to seek treatment should "absolutely be commended."
He said, "For her to recognize that she is in trouble, really in a crisis state, and to voluntarily check into a treatment center is so brave of her to do. I have tremendous admiration for her. She is clearly trying to do the best thing for herself, and that is always a very good sign for her long term prognosis."
The pressures of work for the young star do cause Dr. Drew to offer some words of caution. "Work can gratify Demi. Yet, the pressures of work could add undo stress to her," he tells RadarOnline.com.
Article continues below advertisement
"This is the biggest problem that celebrities encounter after seeking treatment. They live in such a superficial world, and that can be a trigger for someone like Demi, who is so young, and if she is dealing with body issues, well, it can lead to undesirable consequences.
"Demi needs to listen very carefully to her treatment team and follow their advice. I truly wish her only the best and hopefully she can move on from this and grow from it," Dr. Drew said.