VIDEO: Jonas Brothers Use Demi Look-A-Like For South American Concert Tour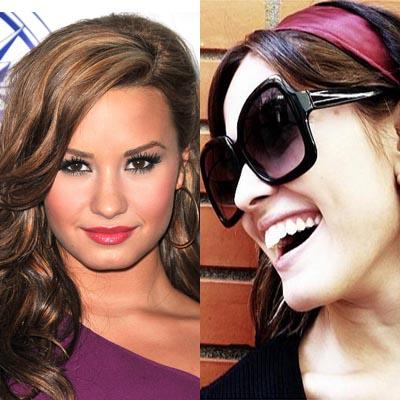 The Jonas Brothers are using Brazilian Demi Lovato look-alike Juliana Vasconcelos Povoas (known as Jullie) to stand-in for the Disney favorite while she is being treated in rehab, RadarOnline.com can reveal.
Lovato decided to leave the Jonas Brothers tour last week and seek treatment for what was described as "emotional and physical issues" after reportedly punching a female dancer on the tour.
VIDEO: Compare Jullie and Demi Singing 'Wouldn't Change A Thing'
Article continues below advertisement
And while Lovato receives treatment, Brazilian beauty Jullie is stepping-up to the plate to fulfill her obligations by performing with the famous brothers in South America.
On Saturday, November 6, at their concert in Sao Paulo, Brazil, Joe Jonas was seen hugging Jullie before introducing her to the crowd where she performed Lovato's original hit song with him Wouldn't Change A Thing.
Jullie, 22, who was born in Vila Velha, Espirito Santo, is already well-known to millions of South American pop fans.
Ironically, her career is like a mirror-image of US teen sensation Lovato as she starred in South American kids television shows like Xuxa Park and Gente Inocente before lending her voice to Brazilian versions of shows like Gossip Girl and Total Drama Island.
Her debut album Hey!, was released in September 22, 2009, and was influenced by singers like Lily Allen and Madonna. Her fans dubbed her the 'Brazilian Katy Perry' because of her feminist stand, music style and fashion sense.
Article continues below advertisement
On August 2, a Brazilian version of Lovato's song Wouldn't Change A Thing featuring Joe Jonas was released for the South American market.
It is not known yet if Lovato, 18, will re-join the tour once her treatment concludes.
Dr. Drew Pinsky recently told RadarOnline.com 'Demi's decision to seek treatment should "absolutely be commended."
He said: "For her to recognize that she is in trouble, really in a crisis state, and to voluntarily check into a treatment center is so brave of her to do. I have tremendous admiration for her. She is clearly trying to do the best thing for herself, and that is always a very good sign for her long term prognosis."
The pressures of work for the young star do cause Dr. Drew to offer some words of caution. "Work can gratify Demi. Yet, the pressures of work could add undo stress to her," he tells RadarOnline.com.
"This is the biggest problem that celebrities encounter after seeking treatment. They live in such a superficial world, and that can be a trigger for someone like Demi, who is so young, and if she is dealing with body issues, well, it can lead to undesirable consequences.