RADAR EXCLUSIVE: Charlie Sheen In Negotiations With HDNet Boss Mark Cuban, TV Billionaire Says 'It Would Be A Great Show'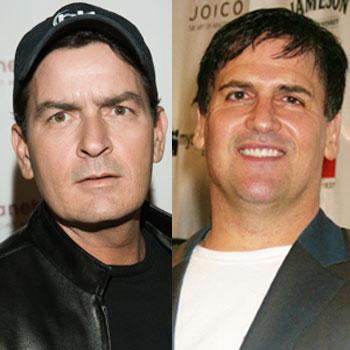 Billionaire Mark Cuban and his HDNet television network have begun negotiations with besieged Two and a Half Men star Charlie Sheen, RadarOnline.com has exclusively learned.
"True," Cuban, who is also the owner of the Dallas Mavericks, told RadarOnline.com via email Friday when asked if he was in talks with the 45-year-old actor.
"It would be a great show. Can't really say anything beyond that at this point."
Article continues below advertisement
The pair has been in discussions for at least a week.
However, it's not known if the talks are to lure Sheen away from the remaining season left on his CBS and Warner Bros. Television contract, which grosses the star almost $2 million per episode, or whether it's for an additional project, such as the star's 30-minute Sheen's Corner program, as this website first revealed.
Sheen insisted in a video interview with RadarOnline.com that HBO was in talks to sign the star for a 10-show guarantee, for an astounding $5 million an episode, despite the network refusing to validate the claims.
He said: "There's a couple of companies who want it badly, it's in a bidding war and of course they (HBO) don't want to do anything that's going to undercut their power."
When asked if he was still a bankable star, Sheen said: "I absolutely am. Absolutely I am. Look at the value of my show. Look at what it's costing them when they shut it down. I mean come on, the scoreboard doesn't lie."
The troubled actor found out February 24 that the last four episodes of the current Two and a Half Men season had been canceled following his recent behavior and personal attack on the show's creator Chuck Lorre.
Article continues below advertisement
In a radio interview on Friday, Sheen expressed optimism that he's going to return to Two and a Half Men.
He said "it feels like all parties" are coming to a working understanding to get back to the business of making TV's top-rated show.
"Absolutely the gig's coming back, I have absolute faith in that," he said, noting he sees "a few adjustments" in the future.
Launched in 2001 by Cuban, HDNet is the first national network to broadcast all of its programming in 1080i resolution, the highest-quality format of high-definition television.