Exclusive
EXCLUSIVE: Charlie Sheen Reveals To Radar: 'I'm Moving To HBO For My Own Show'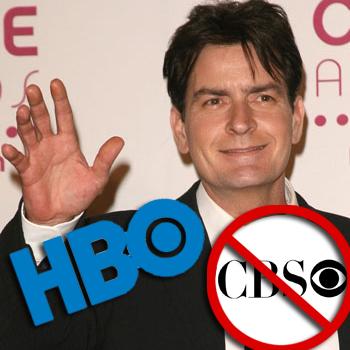 Charlie Sheen has fired back on the decision to suspend Two and Half Men, labeling the move "crazy" -- and boldly declaring that he is switching channels to HBO.
In a text message from the Bahamas where he is vacationing, the 45-year-old actor described CBS and Warner Bros. decision to immediately stop production of Two and a Half Men for the rest of the season as "crazy" and "sad".
The Hollywood superstar revealed he was in serious negotiations to star in his own half-hour show, titled Sheen's Corner -- a deal that would reputedly land him a whopping $5 million an episode.
Article continues below advertisement
"I'm close to securing a deal with HBO for a 10 show guarantee," Sheen told RadarOnline.com's Dylan Howard, exclusively.
"It will be epic, all types of guests and we will focus on the truth and the absurd!"
Despite Sheen's claims, a spokesperson for HBO said the network had not done any deal with the star.
Earlier, CBS and Warner Bros. released a statement, saying: "Based on the totality of Charlie Sheen's statements, conduct and condition, CBS and Warner Bros. Television have decided to discontinue production of Two And A Half Men for the remainder of the season."
In an open letter to his fans, Sheen also wrote:
What does this say about Haim Levine after he tried to use his words to judge and attempt to degrade me. I gracefully ignored this folly for 177 shows ... I fire back once and this contaminated little maggot can't handle my power and can't handle the truth. I wish him nothing but pain in his silly travels especially if they wind up in my octagon. Clearly I have defeated this earthworm with my words -- imagine what I would have done with my fire breathing fists. I urge all my beautiful and loyal fans who embraced this show for almost a decade to walk with me side-by-side as we march up the steps of justice to right this unconscionable wrong.
Article continues below advertisement