Exclusive
AUDIO: Charlie Sheen's New Interview: 'Deal Is Close To Putting Show Back On Air'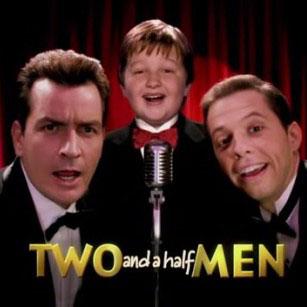 Charlie Sheen's self-described "media tsunami" continued on Philadelphia's Wired 96.5's Friday on The Chio & Shila Show, where he expressed optimism he's going to return to Two and a Half Men, detailed how his "Goddesses" are doing and made it clear he's satisfied with the current situation regarding his twin sons, Max and Bob.
Sheen called in to The Chio & Shila Show, initially complaining about the connection, saying, "My super powers are blowing it up completely ... I think were winning this morning. This connection sucks ... can I call you back?"
Article continues below advertisement
When he called back, he told Wired 96.5, "What did you all do in that missing ten seconds without me? Did it feel like your lives had ended? I think I just figured out what AT&T stands for ... always terrible talk ... yeah, lawsuits a' coming."
Asked about his previous comments that Two and a Half Men creator and exec producer Chuck Lorre never paid him a compliment during his eight years on the show, Sheen said, "No, I mean I shouldn't say a compliment, those were thrown about ... but behind those compliments were the disdain of judgment and the stench of lies."
However, Sheen did tell Wired 96.5 that "it feels like all parties" are coming to a working understanding to get back to the business of making TV's top-rated show, as a deal is close to putting the show back on the air.
"Absolutely the gig's coming back, I have absolute faith in that," he told Wired 96.5, noting he sees "a few adjustments" in the future.
Article continues below advertisement
Listen to Charlie Sheen Interview
Sheen told Wired 96.5 of his critics: "To the haters, I don't speak to them anymore, I speak past them ... I don't have any interest being sucked into the mire of their stupidity."
Hear the audio on RadarOnline.com
Asked about how his "Goddesses" -- porn star Bree Olson (real name Rachel Oberlin) and new girlfriend Natalie Kenly -- were doing, Sheen told Wired 96.5, "You're still referring to them as Goddesses, how do you think they are?
"They are as fabulous as anyone could imagine," Sheen told The Chio & Shila Show. "They have a magical presence that makes me feel alive and focused.
"If you look at the scoreboard ... I'm 0-for-3 in the marriage dept so I'm gonna try this for a little while," he said, adding the duo boils his "tiger blood like a microwave on meth!"
Charlie did stay somewhat mum about the current situation with his 23-month-old twins Max and Bob, who were taken from his custody late Tuesday in a RadarOnline.com world exclusive.
Article continues below advertisement
"I cannot speak about it, sorry, I don't wanna violate the inner me, but for the children, I cannot speak about it," he told The Chio & Shila Show, though implied the situation on that front had cooled off, saying he was satisfied with the status quo (whatever that may be).
Sheen then repeated a sentiment he said as RadarOnline.com's cameras were rolling during Tuesday's tense exchange.
"When dad said, 'Don't say goodbye, say see ya later,' dad did not lie," Sheen said Friday.