PHOTOS & VIDEO: Prince William & Kate Middleton Make Surprise Visit To Northern Ireland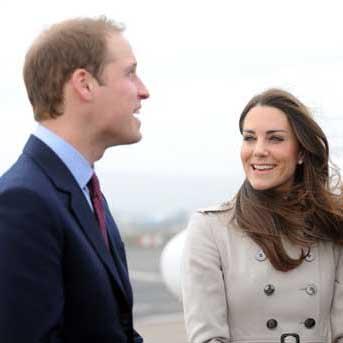 We're now only 52 days away from the royal wedding, and RadarOnline.com has brand new pics of Prince William and his wife-to-be Kate Middleton as they made a surprise visit to Belfast, Northern Ireland for the first time on Tuesday.
William was debonair in a navy blue suit, while Middleton sparkled in a beige coat. The young lovers both sported infectious smiles, as it's clear they're quite smitten with one another.
Article continues below advertisement
While there, Middleton, in a fundraising effort for the Northern Ireland Cancer Fund, flipped pancakes with children in front of city hall.
Once word spread of their presence, hundreds of locals flocked to the area to catch a glimpse at the young royal and his fiancée. Security was high in the historically-volatile region for the unannounced visit, as armed officers were spotted patrolling the streets and rooftops, but everything went off without a hitch.
The regal young couple has been on the move lately, as they've also been spotted in Wales and Scotland in the past month as their storybook day approaches quickly.
Watch the video on RadarOnline.com
They've been a couple almost a decade, as they met while attending Scotland's St. Andrew's University back in 2001. They'll be getting married April 29, 2011 at the historic English church Westminster Abbey.