PHOTOS: The Sexiest Triple Threats! Stars That Sing, Act & Look Good In A Bikini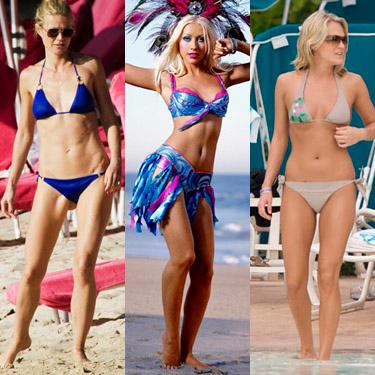 Some girls have all the luck! Not only are these Hollywood stars singing sensations and accomplished actresses, but they also have the hottest bods on the beach. RadarOnline.com has photos of the sexiest triple threats in Hollywood -- stripped down and showing off their fine-tuned curves in the sexiest of swimsuits. Click the next sentence to see the sexiest triple threats in their bikinis.
Click Here To See The Sexiest Triple Threats In Their Bikinis
Article continues below advertisement
Gwyneth Paltrow is a bigscreen babe who married a music man, and then decided to embark in a singing career of her own! The gorgeous star, who has one of the most famously fat-free figures in Hollywood, as you can see here in this bright blue Vitamin A bikini, caught the singing bug after filming Country Strong, and now reportedly has a massive six-figure record deal in the works.
Article continues below advertisement
Vanessa Hudgens and Ashley Tisdale are two High School Musical triple threats. Both bikini babes soared to international sex symbol status for their roles in the popular Disney franchise-and they both look equally sexy in their barely there bikinis.
Click Here To See Vanessa Hudgens' Vixen Bikini Body
Click Here To See Ashley Tisdale Looking Terrific In Her Bikini
And Reese Witherspoon proved herself to be worthy of the Academy Award when she took on the roll of June Carter Cash in the movie Walk the Line. The beautiful blonde not only acted the part to perfection, but she sang it too!