PHOTOS: From Britney To Demi To Miley - Disney's Most Scandalous Stars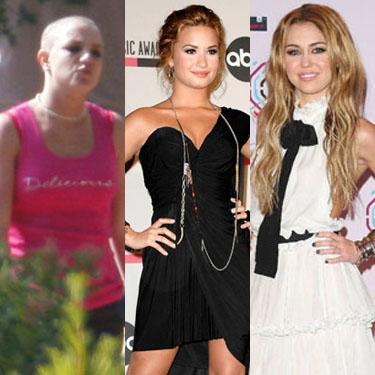 From Britney Spears' meltdown to Demi Lovato's emotional and physical issues, Disney stars have not always lived up to their "family friendly" reputation.
RadarOnline.com has compiled photos of stars who have rocked the popular media company with scandal over the years -- and also those who have stayed true to the comapny's squeaky clean reputation.
When news broke that Demi Lovato had punched her America's Next Dance Crew pal Alex Welch in the face, her fans were in disbelief.
Article continues below advertisement
Up to this point, the brunette babe had always maintained a clean-cut image, dating a Jonas Brother, getting involved in anti-bullying campaigns and promoting environmentally friendly behavior, so the violent outburst between the star and her dancer pal seemed totally out of character.
As the story develops, it is becoming clearer and clearer: Demi wasn't exactly living the Disney dream.
The Mickey Mouse Club was one of the longest running variety shows in television history.
From 1955 until 1996, the kid-oriented show kick-started the careers of several talented actors and singers, who went on to become household names.
While Keri Russell, Justin Timberlake and Christina Aguilera have managed to stay out of trouble, Britney Spears wasn't so lucky.
After splitting ways with her Mouseketeer beau Timberlake in 2002, the lusty pop-star unraveled before the public eye, landing in rehabs and mental institutions before seemingly getting her act together.
Article continues below advertisement
Another hit Disney show, Kids Incorporated, hosted a bevy of talent, including Stacy Ferguson, Jennifer Love Hewitt and Eric Balfour.
While Jennifer and Eric have remained relatively PG-rated with their professional and personal lives over the years, Fergie has revealed that she struggled with an addiction to crystal meth.
Brad Renfro was only 13-years-old when he starred in the Disney film Tom & Huck after his blockbuster debut in The Client.
The young star seemed to have the world at his fingertips, even winning Hollywood Reporter's Young Star Award in 1995.
Years later, the actor developed a drug problem, which would land him behind bars and in rehab facilities, before dying of a drug overdose at the age of twenty-five.
When Lindsay Lohan made her bigscreen debut in the Disney remake of The Parent Trap, the world fell in love with her.
With her impressive acting skills and her adorable looks, the 11-year-old appeared to be on the road to a covetable career.
Article continues below advertisement
The Disney folk adored Lohan, so the red-haired actress continued to splash the tube and bigscreen in such flicks as Life-Size, Get a Clue and Freaky Friday.
It wasn't until Lindsay was filming Herbie: Fully Loaded in 2004, that Lohan demonstrated what Vanity Fair magazine referred to as "un-Disney-like behavior."
Six years, a few jail stints and five rehabs later, is the former Disney star finally on the road to recovery?
More recent Disney shocks have come in the form of Hannah Montana star Miley Cyrus and High School Musical babe Vanessa Hudgens.
While Miley has been scrutinized for everything from underage drinking to her racy onstage costumes, Vanessa was caught up in a nude photo scandal, which shocked her fans.
See all the Disney stars who have grabbed headlines for their "un-Disney-like" behavior and the ones who remain scandal-free in RadarOnline.com's special photo gallery.