PHOTO: Fergie Talks Meth Recovery, Husband Josh Duhamel's Cheating Scandal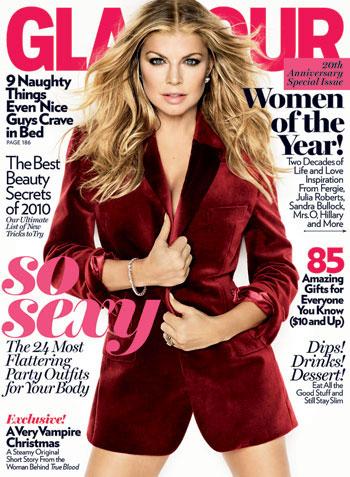 After a tumultuous year of highs and lows, Fergie opened up to Katie Couric about her struggle with crystal meth, her relationship with husband Josh Duhamel and how the television show Hoarders has changed her life in the December issue of Glamour Magazine, where she is featured (pantsless!) on the cover as the 2010 Woman of the Year.
Though the Black Eye'd Pea has openly discussed her recovery from crystal meth before, she admits to Couric that she isn't exactly sober.
Article continues below advertisement
"I'm not claiming to be sober," she explained when Couric asked her if staying sober was a conscious act for her. "I think that would be misleading. I drink alcohol. For most addicts they would advise never to have any sort of substance. I just have my own journey, and I am very blessed to this day to be alive."
When Couric asked how she coped with the allegations that her husband cheated on her with an Atlanta stripper last year, the pop star explained that it was all part of show business!
Read The Bombshell Report About Josh Duhamel's Romp With A Stripper Here
"Just by knowing that our relationship was stronger than that. We live in a voyeuristic world, and it's part of our business."
Later in the interview Fergie maintained that she is "not a jealous person" and that "you have to trust your relationship" when Couric asked if she was bothered by all the female attention that Josh receives.
Article continues below advertisement
And finally, when she tells Katie about the new "evolution" she is going through after seeing the popular television show Hoarders and talking to her therapist about the implications of holding onto old things.
"I'm completely cleaning out my closet.I talked to my therapist and realized that when I was growing up, my mom would get (me) clothes donated from the church, and part of me was just holding on to things, thinking it was going to go away."