PHOTOS: Who Is Hotter? CMA Babes Carrie Underwood And Taylor Swift Battle It Out!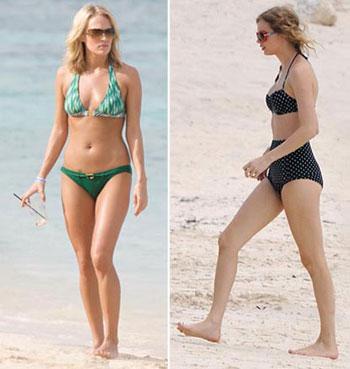 Taylor Swift and Carrie Underwood are without a doubt, country music's sexiest young singers! Both blonde, gorgeous and talented, it isn't shocking that the two are constantly compared to each other at every level. Before the crooners face off at the 44th CMA Awards on Wednesday at 8/7c on ABC for the coveted Female Vocalist of the Year Awards, RadarOnline.com pits the country crooners against each other in multiple categories, and only the hottest star will come out on top!
Article continues below advertisement
When it comes to bikini bodies, Taylor and Carrie are both perfect 10's! While Underwood follows the less-is-more bikini style mantra, Swift struts her stuff in a not-so-teeny-weeny-vintage-style-polka-dot-bikini.
Find out which bikini babe brings more heat to the beach here.
From the Grammy's to the American Music Awards, whenever Carrie or Taylor hit the red carpet all eyes are on them. The two sweethearts have totally similar style, preferring metallics to bright colors, one-shoulder and strapless necklines to sleeves, and short to long hemlines, but which stunner scores more slots on the Best Dressed list?
Both country crooners have luscious legs -- and they know how to use them! While Taylor's slender stems go on for miles (she is 5'11) Carrie makes the most of her 5 feet 4 inches by hitting the gym hard, and keeping her legs sculpted to perfection. When the two babes battle it out in sexy cutoffs, which pair of legs makes the higher grade?
Does Carrie or Taylor have better legs? Find out here.
And while sexy clearly has to do with hot bodies and sizzling style, who isn't turned on by a little trophy bling? While both Carrie and Taylor have impressive statues decorating their respective homes from every major music awards show, which one of them brings home more gold?
Article continues below advertisement