Exclusive
PHOTOS: Who's Hotter? Megan Fox Or Olivia Wilde - You Decide!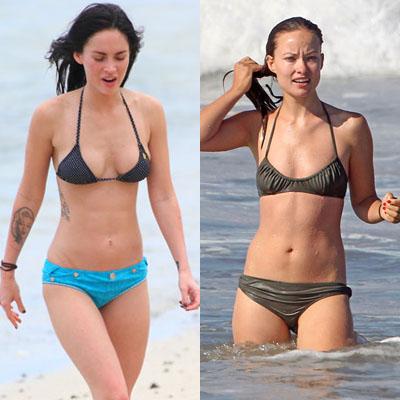 It's a battle royale as Megan Fox and Olivia Wilde face off, soaking wet, for RadarOnline.com.
Taking a step away from the silver and small screens, Megan and Olivia recently stripped down and strapped on their smokin' hot bikinis, leaving many to wonder: who's hotter?
Megan shot to fame in the Transformer movies, where her sultry on screen character steamed up the box office smash hit flick.
Olivia, on the hand, is a small screen stunner who rose the stardom on the hit show House, where she's a doctor anyone would want to make a house call.
Article continues below advertisement
Switching careers, Olivia will also be starring in the much anticipated Tron: Legacy in December, later this year.
You're invited to share your thoughts in comments - and we ask - who do you think is hotter?
For the record, Maxim Magazine ranked Olivia #1 on their 2009 Hot 100 list while Megan came in a close second.
RELATED STORIES:
VIDEO: Megan Fox Simulates Domestic Violence In Rihanna And Eminem Video