VIDEO: Megan Fox Simulates Domestic Violence In Rihanna & Eminem's New Music Video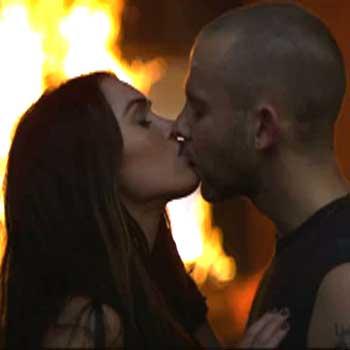 Eminem and Rihanna's new music video for Love The Way You Lie features Megan Fox and Dominic Monaghan as a passionate couple whose arguments turn violent.
The video takes you through the tumultuous relationship between Fox and Monaghan which eventually ends with their house being set on fire.
"I think we tried as hard as we could to not glorify the violence, to try and explain that this was a relationship that is by no means ideal and a relationship that probably should have ended a lot sooner than it did," Monaghan told MTV News.
Article continues below advertisement
"The concept of 'Love the Way You Lie' was essentially a look at the relationship that Eminem was in with his wife, Kim, so I kind of felt like I was playing Eminem a little bit, and Megan Fox was kind of playing Kim."
Eminem played out his toxic relationship with ex-wife Kim Scott very publicly, often referring to their relationship in songs he wrote, but after his second divorce from her in 2006 the on-again-off-again couple has remained split.
Rihanna's also had a run-in with domestic violence when her then-boyfriend Chris Brown was charged in 2009 with assaulting her in the car after leaving a Grammys-related event.