Carrie Underwood's Hockey Husband Sends Special Message To Teenager's Funeral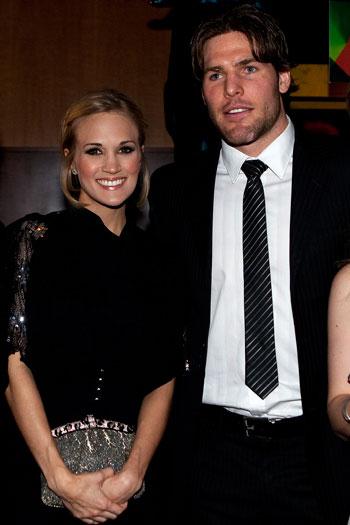 Carrie Underwood's husband is a hard-hitting hockey pro, but RadarOnline.com has learned he recently sent a touching gift to the funeral of a teenager he had never even met.
Sadly a 15-year-old New Jersey boy that shared the same name as Underwood's Ottawa Senators husband, Mike Fisher, died suddenly during his roller-hockey practice in September.
According to the boy's step-father, Daniel Nees, Fisher was his favorite player and the teen often joked around that he was married to Underwood.
Article continues below advertisement
"When Mike married Carrie Underwood, he used to go around telling everybody, 'Yeah, I'm married to Carrie Underwood,'" Nees told the Ottawa Citizen.
After the young boy passed away, Nees reached out to the Senators in search of an autographed photo from Fisher to display at the funeral.
Chad Schella, director of player services, agreed to help the family out but made no promises that the photo would arrive in time for the service.
When the family arrived home from the funeral there was a package waiting on their doorstep with a signed photo from Fisher that read:
"From one Fish to another. Many blessings."
"I was impressed, because he said he didn't think he could get it in time," Nees said.
"The fact that he could pull it off and get it to us; I was really touched by that."
"It was a sad, sad story… There aren't too many Mike Fishers playing hockey out there," the Senators player said.