EXCLUSIVE DETAILS: Inside Carrie Underwood's Dream $500,000 Weekend Wedding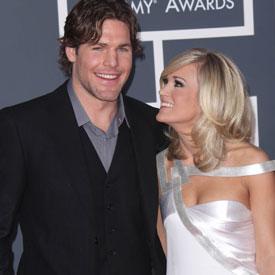 The fairytale wedding of country music sweetheart Carrie Underwood comes with a half-million dollar price tag, RadarOnline.com has learned, and only we can take you inside the plans for this weekend's elegant affair.
The nuptials will take place on Saturday at The Ritz-Carlton Lodge, Reynolds Plantation, in Greensboro, Georgia, a small community of 3,000 people.
DOCUMENT: Letter To Guests Of Hotel Where Carrie Will Wed
Article continues below advertisement
The multi-platinum recording artist and her groom-to-be, Canadian pro hockey player Mike Fisher, have booked out the entire hotel for the occasion and their guests.
The price tag for the hotel alone is expected to exceed $268,000 a night.
Non-wedding hotel guests at the Ritz were served with a letter in the last 24 hours, requiring that everyone leave the premises by Noon, Friday.
"She has blocked off all 251 rooms at the hotel," says Carey Williams, editor of The Herald Journal in Greensboro.
Rooms range from $300 to $1,500 a night.
Underwood and Fisher will spend their first night as husband and wife in the Presidential House, which is fit for the country princess and hockey's hunkiest star.
For a whopping $4,000 a night, the couple will get VIP use of the lake and the 18th green on the golf course — not that we think golf is on their agenda.
The massive 5,400 square-foot suite comes with four master suites, including two king-size rooms and two double bedrooms, a gourmet kitchen, terrace with access to the recreation room, private pool, living room and dining room that seats 16 people.
Article continues below advertisement
Underwood's plans for her dream nuptials — expected to total more than $500,000 — are also taking shape, RadarOnline.com has confirmed.
A tent has been erected in the posh hotel's ground — near the lakeside landing where she will walk down the aisle, in a perfect romantic setting.
The Ritz is known for protecting the privacy of its guests, but RadarOnline.com has learned, VIP visitors started arriving Wednesday night, even though Underwood herself won't be there until Friday.
"Carrie will be flying in by helicopter on Friday," Williams tells us.
VIDEO: Carrie Underwood Wins Entertainer Of The Year Award
RadarOnline.com has also learned the waterways near the luxury hotel will be closed off from the public during the wedding, to prevent prying eyes from getting a look at the bride.
Fisher asked for Underwood's hand in marriage in December, 2009; the couple has been dating since they met at one of her concerts a year earlier.