PHOTOS: Prince William Surveys Damage In Quake-Ravaged New Zealand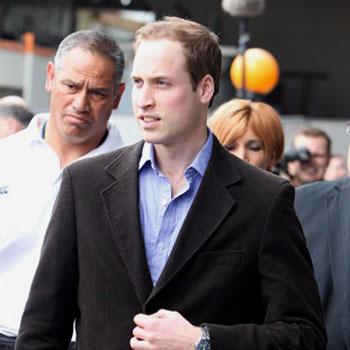 We're now only 43 days away from the royal wedding, and RadarOnline.com has brand new pics of Prince William surveying the damage in Christchurch, New Zealand, an area still picking up the pieces in the wake of the 6.3 earthquake that struck there February 22.
"The scale of it is unbelievable," Prince William said Thursday. "It really does bring it home to you to see a building like that, it's just so sad."
Article continues below advertisement
Prince William entered the red zone, traveling up Gloucester St and stopping first at Cathedral Square, where he saw the ruined site of the Christ Church Cathedral.
The Prince then travelled down badly damaged Colombo and Manchester Streets before arriving at Latimer Square.
Inside Latimer Square, he was greeted by dozens of Urban Search and Rescue (USAR) workers. "You guys have been doing a sterling job. You really have. You have done fantastically well," the Prince said. He said it had been an "horrendous time for disasters in the last six months.
"There was a lot of us who were in the military were gnashing our teeth to get over here," he said.
When USAR teams got William to pose for a picture, they put a cap on his head and he joked, "it smells a bit dodge".
The Prince also spoke to Shane O'Brien, another USAR officer whose house in Bexley, New Zealand was badly damaged by the massive quake.
His shy twins Lilah and Verity, 7, also met the future king.
Article continues below advertisement
"Who are these two lovely girls and are you looking after dad?" Prince William asked the pair, telling Mr O'Brien Lilah and Verity were proud of their father.
"It gives us all a boast. While New Zealand is a tiny little place in the middle of nowhere, it's nice to know the world knows where we are and who we are," O'Brien said.
Despite his big day just around the corner, Prince William has been a busy young man, having also visited in Wales, Scotland and North Ireland in the past month, following in the footsteps of his late mother Princess Diana, who was known for her tirelessness in helping out with various causes.
PHOTO: Kate Middleton Shows Off Her Hot Bikini Bod
"He's been exposed to some pretty gritty things in his life, given his career path," Christchurch Mayor Bob Parker told the paper. "He's taken this in his stride. He's our prince. He didn't have to come here, but he did, and the fact that he did means a great deal to us."
Next up for Prince William is a Saturday trip to Australia, where he'll survey areas of Queensland and Victoria still reeling from flooding and cyclones.
Article continues below advertisement